Girls Basketball: Park Rapids opens playoffs by upsetting Barnesville
Gabi Shepersky and Tori Weaver set the tone early in the Panthers' 71-54 Section 8AA victory.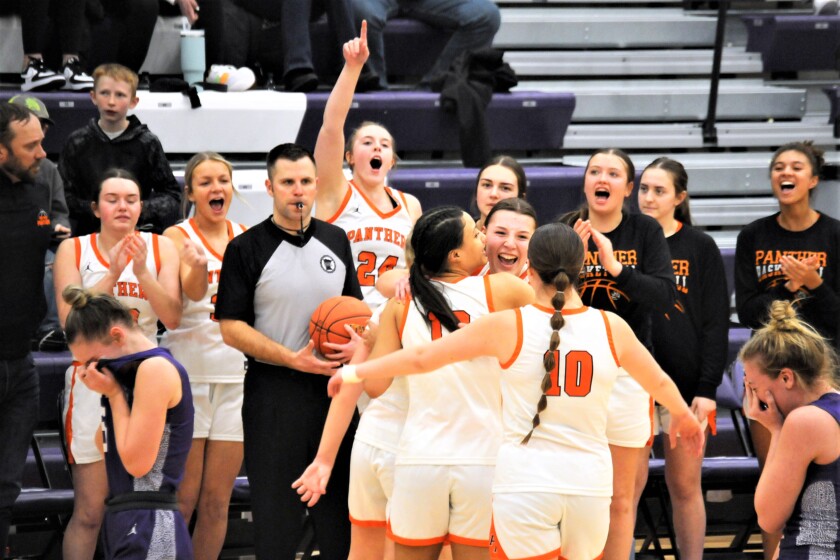 BARNESVILLE – Gabi Shepersky and Tori Weaver set the tone early as the Park Rapids girls basketball team upset Barnesville 71-54 to open the Section 8AA tournament on Thursday, March 2.
Shepersky and Weaver opened the game by combining to hit five straight 3-pointers as the No. 13-seeded Panthers jumped out to a 15-2 lead to claim the momentum and eliminate No. 4 Barnesville.
"This was a big win for us. We know that we are a better team than our record and seeding show, so we knew we wanted to come out and have a strong showing against Barnesville," said Park Rapids head coach Nic Lembcke. "Having the senior class that we do, I think there was a little more urgency and desperation for this game. Nobody in that locker room wanted this to be our last game. The girls were focused all week and came ready to compete."
Shepersky made three 3-pointers and Weaver connected twice from long range as Park Rapids claimed an early 13-point lead at the 15:08 mark. A pair of baskets by Olivia Davis made it 19-5 while layups by Halle Eischens and Miller and three more 3-pointers by Shepersky, including one before the buzzer, gave the Panthers a 37-21 advantage at the half.
"We started the game hot from behind the arc. Gabi and Tori were alternating 3 pointers, making our first five," said Lembcke. "That level of shooting wasn't going to be sustainable, but it did give us a lead and also some confidence to start off the game."
Barnesville opened the second half with a 10-1 run to cut the gap to 38-31 before two inside baskets by Julia Harmon and a 3-pointer by Weaver provided a 46-34 advantage. The Panthers would lead by double digits the rest of the game.
Layups by Harmon and Davis, consecutive 3-pointers by Shepersky, and baskets by Davis, Harmon and Anna Yliniemi made it 63-50. Park Rapids sealed the win as Weaver and Davis combined to go 8 for 10 on free throws in the final 4:13.
Shepersky made eight 3-pointers in scoring 24 points while Davis added 18 points. Weaver (15) and Harmon (10) also scored in double figures as the Panthers made 11 of 22 3-pointers (including going 8 for 15 in the first half) and 16 of 26 free throws to offset 27 turnovers. Harmon grabbed nine rebounds and blocked two shots, Davis had six rebounds and four assists, and Weaver had four assists and four steals as Park Rapids' defense forced 25 turnovers. The win lifted the Panthers' record to 11-15.
Barnesville, which defeated the Panthers 67-58 during the regular season, was led by Abby John's 25 points and Emily Smith's 13 points. The Trojans, who went 4 for 16 on 3-pointers, ended the season with a 15-11 record.
In the other Section 8AA playoff games, No. 1 Perham defeated No. 16 Warroad 64-26, No. 2 Thief River Falls eliminated No. 15 Red Lake 93-39, No. 3 Pelican Rapids edged No. 14 Frazee 62-54, No. 5 Dilworth-Glyndon-Felton ousted No. 12 East Grand Forks 50-34, No. 11 Wadena-Deer Creek upset No. 4 Hawley 57-43, No. 7 Crookston defeated No. 10 Menahga 52-38 and No. 8 Fergus Falls eliminated No. 9 Roseau 79-44.
"I thought the girls executed our game plan really well on both sides of the floor. For the most part we were able to contain Abby John and still recover to their shooters. On the offensive side of the ball, I thought our movement was as good as it has been all year. We were attacking the rim and spacing well on the perimeter, which set us up for some high percentage shots, either at the rim or kicking for an inside-out 3-point shot," said Lembcke. "We got into a little bit of foul trouble in the first half, but I've always said that we are a really deep team. There were 11 girls that saw action in the first half and they were able to maintain our lead going into halftime. I was really proud of those girls for staying ready and being able to perform in a high pressure environment."
PARK RAPIDS: G. Shepersky 8 0-0 24, Weaver 3 6-8 15, Davis 5 8-11 18, Eischens 1 0-0 2, Harmon 4 2-6 10, Clark 0 0-0 0, Rowland 0 0-0 0, Lund 0 0-1 0, Yliniemi 1 0-0 2, Persons 0 0-0 0, A. Cederstrom 0 0-0 0. Totals: 22 for 45 (FG), 16 for 26 (FT).
BARNESVILLE: Gray 0 1-2 1, Strand 0 1-2 1, Skogen 2 0-1 6, Hoeft 1 0-3 2, John 7 10-13 25, Follingstad 2 1-2 6, Smith 6 1-1 13. Totals: 18 for 52 (FG), 14 for 24 (FT).
Halftime: Park Rapids 37, Barnesville 21. Three-pointers: G. Shepersky 8, Weaver 3, Skogen 2, John 1, Follingstad 1. Team fouls: Park Rapids 18, Barnesville 22. Rebounds: Park Rapids 29 (Harmon 9, Davis 6, Yliniemi 5, Clark 3, G. Shepersky 3, Weaver 2, Eischens 1). Assists: Park Rapids 14 (Weaver 4, Davis 4, Eischens 3, Harmon 2, G. Shepersky 1). Steals: Park Rapids 14 (Weaver 4, G. Shepersky 3, Clark 2, Davis 2, Harmon 2, Yliniemi 1). Blocked shots: Park Rapids 2 (Harmon 2). Turnovers: Park Rapids 27, Barnesville 25.