Kayak sportsman offers tips for gearing up
Kayaks see use in the lake country for fishing and hunting, as well as sightseeing tours.
PARK RAPIDS — Whether you're preparing to enjoy a paddle on lakes area waterways or hunting and fishing from a kayak, it's important to bring the right equipment.
Mike Moody, service manager at Smokey Hills Outdoor Store in Park Rapids, uses kayaks mainly for fishing and hunting, but he knows many people who go touring in kayaks as well. He personally owns two kayaks – a paddle-driven one by Old Town and a pedal kayak by Jackson.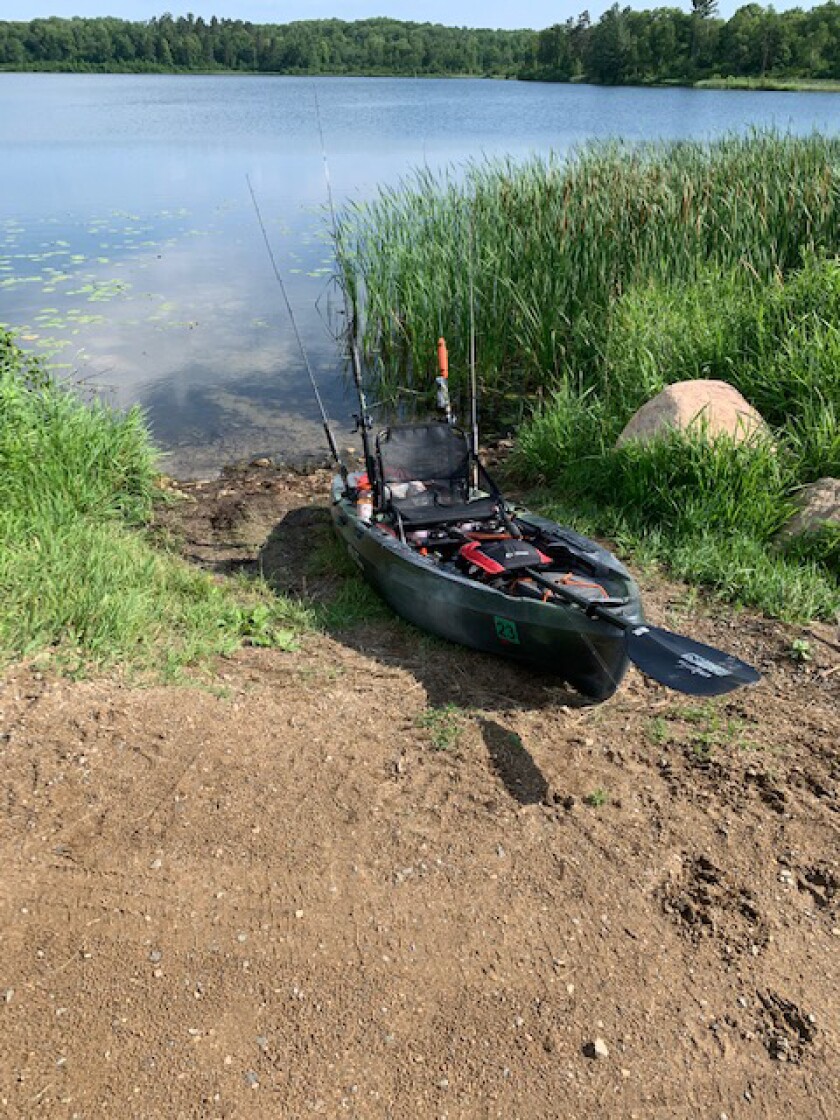 "There's basically two types of folks that buy kayaks," Moody said – those who buy one to throw on the beach at their lake home, for the grandkids to paddle around at the end of their dock; and those who plan to spend a serious amount of time touring, fishing or hunting in them."
Different types of kayak work best for different purposes. "Each of these kayaks has things that they do well and things that they don't do well," said Moody.
Sit-in kayaks, typically seen on whitewater rafting TV shows, enclose the kayaker's legs. When they flip over, they easily fill with water, Moody said. Sit-on models, meanwhile, can flip over and still float. They also allow for removable, folding seats where one can comfortably sit for long periods and even set up on shore.
"The seat and the comfort of the kayak is extremely important if you plan to spend any time in it," said Moody, adding that in general, longer kayaks are faster and track better. "In other words, it will just stay in a straight line unless you do something to turn."
Folks running the rapids tend to choose very short kayaks, he said, which can turn on a dime. Longer, narrow kayaks go farther per paddle stroke and are often used for multi-day trips. "They have plenty of room inside of them to store all your camping gear," said Moody. "They're much more like a canoe."
In general, he said, kayaks with a flat bottom are more stable, but don't track as well and are more at the mercy of the wind compared to a deeper, V-shaped hull.
Higher-end fishing kayaks may include built-in rod holders or a track system into which you can slide them. They can also carry a fish-finder and may be pedal driven or have a trolling motor.
"My advice to anyone who's going to buy a kayak is to go to a place that allows you to get in that kayak on the water," he said.
"I look at YouTube and I get ideas and rig it up so it works for me," Paul Weber says of his fishing kayak. "All this stuff I've done for pennies, but you can spend hundreds of dollars on it."
As with canoes, weight is another important thing to consider when choosing a kayak. "A, we're all gonna get older," said Moody. "And B, you've gotta drag it somewhere and try to get it up on top of your car."
He said adding more weight to a kayak changes the way it handles. "Their performance capabilities decrease the closer you load that kayak to its capacity," he said.
"Always wear a life jacket when you're in a kayak, no exceptions," Moody said, also suggesting ways to increase your visibility on busy lakes, such as having a brightly colored kayak or paddle, an orange or yellow flag and a whistle or air horn.
"Even with all that," he said, "just be smart out there, and you'd better be aware, because you can't maneuver very fast when a powerboat's coming at you."
Moody also recommends taking your kayak out on a warm, sunny day and practicing flipping it and trying to get back in, over and over, in water too deep to touch bottom.
"If you're gonna fish out of a kayak, everything that you care about in that kayak better be leashed," Moody said.
He attaches small sections of foam, like from pool noodles, to his fishing rods so he doesn't lose them. He also carries a pilot knife, with a serrated edge and blunt tip, attached to his life vest so he can cut himself free if he takes a spill in moving water and gets tangled in his leashes.
"I carry with me, in a dry bag, a second set of clothing," he added. "Just sweats and a sweatshirt and some socks. Because, if I'm ever out on a lake somewhere … and I flip, I need to go to shore, get out of my wet stuff and get dry stuff on as fast as possible."
Kayaks work well for bass fishing, Moody finds – especially in "out of the way places where fish are just dumb; they haven't seen a lot of lures."
For walleye fishing, he said, a trolling motor is indicated. Some kayakers even fish for muskies and northerns, but it helps to be experienced when powerful fish can pull you around.
For kayak hunting, Moody recommends having enough room on the sit-on for your deer, duck decoys or other gear. Certain kayaks are built for that purpose.
Taking a kayak on a duck hunt, he said, "you don't need a dog anymore. You can just hide your kayak in the reeds; you shoot your duck; you jump in your kayak; you go retrieve your duck. Putting your decoy spread out and picking it up is much easier."
It's easy to flip over while shooting from a kayak, especially in the excitement of the moment. "You really oughta try that first on a warm day, before you try it on a cool morning," said Moody.
As for where to go, he urges kayakers to look for a place where other people aren't, like smaller lakes that don't have a lot of motorized watercraft on them.
"And don't forget the rivers," he said. "Go explore. Have fun with it."