HUBBARD COUNTY AIS: Preserve your fishing bait – and protect lakes
Aaron Anderson, Hubbard County's aquatic invasive species (AIS) coordinator, has a simple solution for saving unused bait, while complying with Minnesota Statute and slowing the spread of AIS.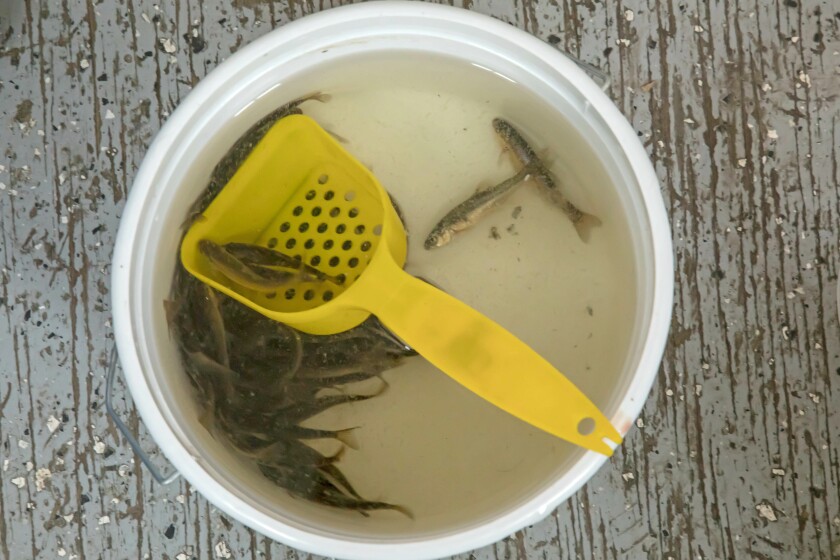 The ice is off. The docks are out. A new excitement has been brewing beneath the surface. The seeds of a new generation of walleye have been sown. The fish are hungry.
Batteries are charged. Fresh gas is in the tank. Licenses are bought.
You've purchased enough gummy worms to buy just enough fishing time before the kids begin their protests. New shiner minnows are awaiting their fates. Fresh tap water waits back in the truck.
Wait, fresh what?
Thanks to our generous city, township and lake association partners (and you, too, Ice Racers!), Hubbard County continues to provide a robust watercraft inspection program in 2023.
The inspectors will be staffing many of your favorite accesses this opening weekend.
These individuals will be fulfilling the immense task of keeping our area lakes free – or limiting the spread – of aquatic invasive species (AIS). They are the backbone of the county's AIS program.
Inspectors are trained and certified by the DNR, and have authority via Minnesota Statute to visually and tactilely inspect your watercraft. They can even deny the launch of a watercraft not in compliance with state law.
If your watercraft falls into this category, they can assist you in bringing it back into compliance. After inspection, boaters may be asked various questions which help program managers at the state and local levels best utilize the limited resources available for watercraft inspection programs. Among other things, this information helps identify patterns as they relate to boat traffic and expose possible risks.
Most watercraft inspections last only a couple minutes. Hardly more time than it takes to prep your boat for launch.
Come to the access expecting an inspection, and let's not forget that common courtesy goes a long way.
Vague rule about bait water
This is the first of several articles to be published this summer in which I will offer my tips and tricks to help you have a safe and worry-free day on the water and through the access.
It is my hope to provide a little entertainment while giving you helpful information you can apply today to ensure you are doing your part to stop the spread of aquatic invasive species.
The number one complaint I receive from both boaters and inspectors alike is the poorly advertised rule regarding bait water.
We've all seen the signs to dispose "unwanted" bait in the trash. That is all fine and dandy, but what do we do with the "wanted" bait? Where is that sign?
Personally, I have never found myself in a position where I have run out of minnows. If you have, then I eagerly await your invite to take me fishing.
Like most anglers, I'm determined to keep my investment alive, at least until I get home. Once at home I'll probably forget them until my better half starts flippantly throwing around vague rhetorical phrases, like "Why is there a bucket of dead minnows in the basement?!"
But regardless, in that moment in time, I fully intend on bringing those minnows back home with me.
According to Minnesota Statute 84D.10. Subdivision 4.a, "When leaving waters of the state, a person must drain water-related equipment holding water and live wells and bilges by removing the drain plug before transporting the water-related equipment off the water access site or riparian property."
Water-related equipment is defined in part as: "…tool, implement, device, or any other associated equipment or container, including but not limited to portable bait containers, live wells, ballast tanks…that is capable of containing or transporting aquatic invasive species, aquatic macrophytes, or water."
You don't need to be a lawyer to recognize that the statute casts a broad net for what could be water-related equipment.
Essentially, all water you take with you onto the lake is considered "lake water" once you return. Those fancy, new aerated bait coolers are awesome at what they do, but are still a "portable bait container." The water needs to be drained.
How do we anglers go about putting a temporary reprieve on Mr. Shiner and Mr. Leech's capital punishments if the state requires us to drain all water-related equipment before leaving the access?
Luckily, there is a very simple solution. Keep a jug of fresh water back at the truck. Upon returning to the access, replace your bait water with the fresh tap water.
This can be as simple as leaving a half-frozen jug on the dashboard in the sunshine. By the time the fishing trip is over, the ice has been replaced by ice-cold water ready for bait.
Better yet, leave a gallon jug or two in a cooler on ice. This will keep the water cold, and the ice is a great way of keeping your catch fresh for the ride back home.
Aaron Anderson is Hubbard County's aquatic invasive species (AIS) coordinator.