A rigorous row: Canoe racing is lesser known sport in the Northwoods
A Laporte competitor has won a renowned 120-mile canoe race – twice. A Nevis couple participates in regional races as well.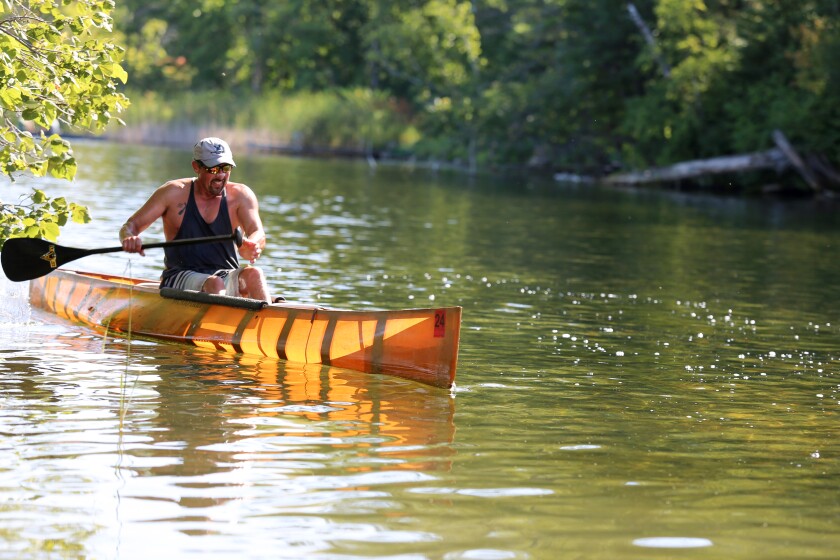 We are part of The Trust Project.
As canoes whisk through water, paddles furiously stabbing the river, the paddler in the stern issues a single command: "hut."
That's the signal that they switch which side they are paddling on.
Welcome to canoe racing.
It's an intensely vigorous sport, built on stamina, not strength.
Originally from Grayling, Mich., Jim Harwood of Laporte has been canoe racing since he was about 16.
"That's the mecca of canoe racing there," he said of his hometown.
Organized by a nonprofit, volunteer organization in 1947, the AuSable River Canoe Marathon is a non-stop canoe race, beginning at the AuSable River in Grayling and ending 120 miles later near the shores of Lake Huron in Oscoda, Mich.
It may be the oldest marathon canoe race in the U.S and it certainly is the longest, non-stop, canoe-only race in the nation.
According to the website (www.ausablecanoemarathon.org), "Contestants must navigate the narrow, winding upper stretch in total darkness as well as stump-filled ponds and the blazing July sun in the lower stretch."
Organizers make it clear: "This race is not a recreational canoe float, but a professional, ultra-competitive race with the very best professional paddles from around North and Central America."
The AuSable River Canoe Marathon also stakes its claim as the "world's toughest spectator race." Considered an important part of the marathon, spectators cheer and motivate their favorite teams through the night and rugged terrain.
Harwood won the marathon – twice. In 2006, with his paddling partner, Allen Limberg, they took top honors by paddling the 120 miles in 14 hours and 33 minutes.
Bemidji race attracts pros
John Arenz organizes the Minnesota Canoe Championships, held each mid-September in Bemidji. In recent years, the contest has launched from where the Mississippi River flows out of Lake Bemidji.
"The top paddlers are here," Arenz said, noting that Harwood is a well-known racer. The statewide competition attracts many paddlers who have performed well.
"I'd say we have two-thirds of the best paddlers in the state," he said. "The other one-third, it's a long drive. They're almost all from the metro area."
The annual competition began in 1995. Previously known as the Bemidji Headwaters Canoe Race, Arenz explained both the name, location and format have changed throughout the years.
For instance, the race used to start at Power Dam Road and head toward the Paul Bunyan statue.
"We actually adopted the Minnesota Championships from Hackensack. They used to have the solo and double championship. They decided they didn't want to do it anymore, so we took over the so-called championship."
Harwood has competed three or four times in the Bemidji contest.
His C1-190 canoe is made of kevlar. It's a one-person canoe. "Probably weighs 29-30 pounds," he said.
"Most of them are made out of graphite now. That's the black ones. The graphites are a little stiffer, more durable," Harwood explained.
The graphite, lightweight paddle is also specially designed for canoe racing.
"They come in at 10-12 ounces," Arenz said.
In order to stay upright, paddlers joke that "you have to keep your gum centered in your mouth."
While unstable, it's built for speed. Harwood describes it as "like an Olympic-style boat."
"Most people go swimming the first time they try it," Arenz said.
Harwood moved to Minnesota from Colorado. "I knew a few paddlers here that I've raced with through the years."
The camaraderie is evident as racers cheer for one another as they cross the finish line.
Harwood said he's known some of his fellow paddlers for 20 years or more.
While the Minnesota Canoe Championship is a fun, last hurrah for the season, other contests are more fiercely competitive.
Harwood said the "Triple Crown" of canoe racing is in New York, Michigan and Quebec, Canada. Those have significant cash rewards, if you win.
Like any sport, Harwood said it can get expensive. A canoe costs up to $5,000. The paddle is $300.
Harwood trains regularly on Garfield Lake or Kabekona Lake. "Just to keep in shape. I don't train as heavy as I used to do when I was younger. I kinda like to keep the fat off, you know," he said.
Chris and Amy Godwin of Nevis have been canoe racing for about nine years.
"We've always been Boundary Waters trippers. We thought we were pretty fast – until we started canoe racing," Chris said.
"Until we met Jim," added Amy.
Chris continued, "We thought strength had a lot to do with canoe racing and then we did our first canoe race. We got beat really, really, really bad. We were watching other people with a really high stroke rate, high cadence and started to emulate what they were doing. The canoe crowd is nice because they really help each other out."
Chris' first competition was the Red Bridge Run. It was a professional and citizen canoe race, held in Park Rapids. Citizen class racers, touring and pro racers paddled a course on the Fish Hook River between Fish Hook Lake and the dam in Park Rapids.
At the end of the event, Anne Manns pulled up alongside of him. "She said, 'Good race. You want to know what you were doing wrong?' I said, 'Yeah!' It just kind of developed from there."
He's also participated in the Chippewa Triathlon, a unique event that combines canoeing, biking, and running, all through the Chippewa National Forest in Cass Lake.
They've also done the Snake River Canoe Race in Mora, Minn.
"I don't do all of them with him, but I do some of them," Amy said.
Amy moved to Minnesota from Indiana. She'd never been in a canoe before.
Chris recalled, "She got in the bow of a pro boat with me. She didn't know how abnormal it was to paddle at 60 strokes per minute."
"I had no idea. I just did what he told me to do," Amy said, laughing.
Smoothness and coordination are key, Chris said, similar to dragon boat teams.
At this year's Minnesota Canoe Championship, Amy paddled in the women's tandem event with Io Harberts, a 28-year veteran of canoe racing. It was their first race together, mainly for fun.
Chris raced solo. "I was pretty slow today," he said of his last-place finish.
What made the difference?
"Yesterday's home improvement project," Amy said.
"And we haven't been training as often," Chris added.
Chris said most of his boats are 20 years old, but they've held their value. They're worth a couple thousand dollars.
Chris and Jim occasionally train together.
They definitely want to introduce more people to the sport, particularly in the north woods.
Canoe racing athletes are smaller in number in northern Minnesota. Chris said they would love to have a large group of paddlers who could train and hold events.
For more information, visit the Minnesota Canoe Association ( https://mca.clubexpress.com ).