Golf: Area athletes compete on college teams
Olivia Wallace, Tate Usher, Thomas Litzau and Andreas Aho tee it up during spring season.
We are part of The Trust Project.
Four local athletes competed for college golf teams this spring.
Park Rapids' Olivia Wallace was a member of the University of Jamestown (North Dakota) women's golf team, Park Rapids' Tate Usher teed it up for the Bemidji State University men's team, Menahga's Thomas Litzau competed for the University of Minnesota Morris men's team and Menahga's Andreas Aho started for the Tabor (Kansas) College men's team.
JAMESTOWN – Wallace capped off her senior season by playing in one tournament for the Jimmies this spring.
Wallace played as the University of Jamestown hosted the Jimmie Spring Swing at the Ames (Iowa) Golf and Country Club on March 28-29. Wallace carded rounds of 95 and 92 for a 187 as the team's No. 5 golfer to place 22nd overall as Jamestown finished second at 713 with rounds of 359 and 354.
Paige Hillman earned medalist honors with rounds of 75 and 84 for a 159 in leading Sioux Falls to the team title in the nine-team field with a 692 after rounds of 336 and 356.
BEMIDJI – Usher competed in one tournament for the Beavers during the spring season.
The BSU freshman carded rounds of 83 and 82 for a 165 as the team's No. 6 golfer at the Warrior Invitational at Las Vegas on March 7-8.
BSU finished 11th out of 16 teams with a two-day total of 622, including a 312 on Day 1 and a 310 on Day 2. McKendree University and Northeastern State led the field with 598s. Washburn's Dawson Wills was the medalist with a 3-under 141 on the par-72 Stallion Mountain Golf Club course.
MORRIS – Litzau finished as the No. 5 golfer in 14 rounds for the Cougars this season, including three tournaments this spring.
Litzau, a junior, was the team's No. 4 golfer with rounds of 92 and 95 for a 187 at the Dickinson State Spring Invitational at the par-72 Heart River Golf Course on April 10-11. The Cougars finished fourth in the five-team field with rounds of 330 and 332 for a 662.
At the University of Wisconsin Superior Yellowjacket Invitational on April 27, Litzau carded a 95 to tie for 25th place as Morris finished third out of five teams with a 357 at the Spooner Golf Club. Superior topped the field with a 332.
Litzau carded a 91 at the Martin Luther College Knights Invitational at the New Ulm Country Club on April 28. Morris finished fourth in the eight-team field with a 326 as Bethany Lutheran took first with a 313.
During the fall season, Litzau had rounds of 97 at the Upper Midwest Athletic Conference Preview at Becker's Pebble Creek Golf Course; 94 and 88 at the Minnesota State Fergus Falls Spartan Invitational at Pebble Lake Golf Course; 88 at the North Central University Invitational at the Les Bolstad Golf Course; 92 at the UM Morris Invitational at Minnewaska Golf Club; 99 at Hutchinson's Bethany Lutheran College Vikings Cup at Crow River Golf Club; 87 at the Martin Luther College Invitational at Buffalo Lake's Oakdale Golf Club; and 90, 84 and 84 at the UMAC Championship at Pebble Creek as the Cougars finished sixth out of eight teams at 992. Bethany Lutheran won the conference title at 934.
TABOR – Aho was one of the Bluejays' top golfers after posting an 80.38 average in 12 rounds as a freshman this spring.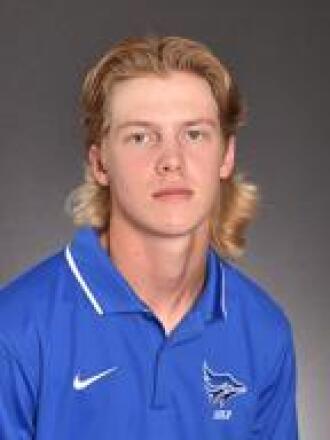 At the Friends at Crestview North meet at Wichita's Crestview Country Club on March 8, Aho led the team with a 79 as Tabor finished eighth out of nine teams with a 331 and followed with a 76 to place fourth overall at the Tabor Invitational at Hesston on March 21. The Bluejays took fourth at the five-team meet with a 320.
Aho carded rounds of 79 and 83 as Tabor placed 14th at the 15-team Sterling at Prairie Dunes at Hutchinson on April 4-5. In the season ending Kansas Collegiate Athletic Conference Championships at Garden City's Buffalo Dunes on April 18-20, Aho carded rounds of 82 and 73 on Day 1, 87 on Day 2 and 84 on Day 3 on the par-72 course to finish 28th overall at 326. Tabor placed seventh at the 10-team meet with a 1,325 with rounds of 322, 315, 349 and 339. Sterling won the conference title with a 1,220. Friends University's Trenton Sutherland was the medalist at 300.
The Park Rapids golfers won their age divisions at the Sub-Regional Qualifier at Fargo's Osgood Golf Course.