Windfall tree gets makeover for Nevis Sites 'n Bites
Artist Paul Albright purposely created an ambiguous image, so viewers can exercise their own creativity, during the city's art, craft, food and music festival on Sunday.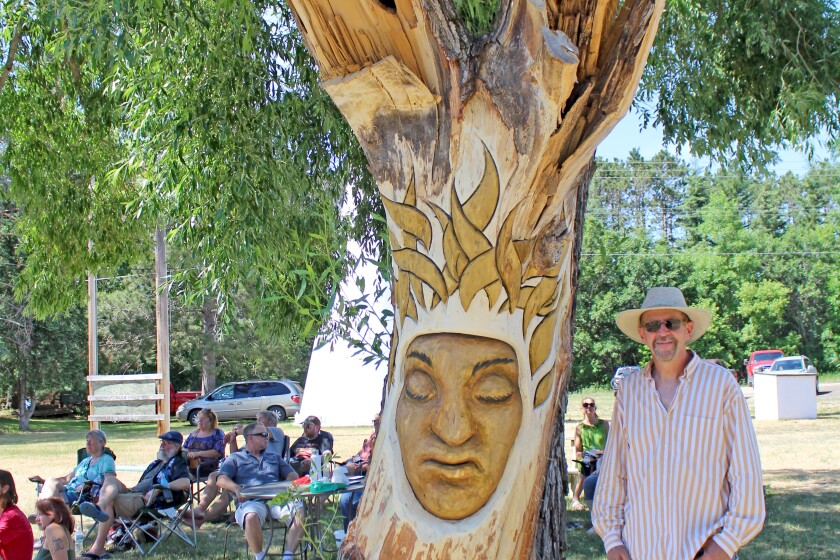 Nevis Sites 'n Bites had a hot, sunny day on Sunday, June 13. Nevertheless, turnout was surprisingly lukewarm after a year of public events being canceled due to COVID-19.
Artist Paul Albright, who spent the morning carving a face into the broken trunk of the windfall willow tree in Shenanigans' yard, commented about the disappointing attendance.
Nevertheless, the community put its best foot forward with food stands, arts and crafts booths and live music playing at both Shenanigans and the Muni.
Visitors, many of them towing their dogs, enjoyed pizza by the slice, brats and ice cream while pausing in the shade to listen to music by MorningBird, New Salty Dog and Hunter Schroeder.
Shenanigans owner Tracy Ganley said half of the big, twin-trunked willow came down in a storm in early August 2020, and Albright suggested doing the carving as part of the arts and crafts focus of Sites 'n Bites.
"I approached them this spring, wondering whether they had plans with it, and they said, 'We really don't,'" Albright explained. "I said, 'What if I were to do some sort of carving on it?' and they were happy to hear that."
"I think it's great," Ganley said of the artwork.
Albright said he started carving at 8 a.m. and finished it around 3 p.m. "I usually don't do fast carvings," he said, but he noted that the willow was many Nevisites' favorite tree and that he has already received strong feedback about it.
"One gal was emotional and said she wanted to cry," he said, "because she realized it kind of brought it back to life to a certain extent. It was an emotional loss, for a tree. But I'm right along with them."
The carving shows a face crowned by shapes, somewhat like leaves, which Albright said is intended to be ambiguous.
"I try to shoot for the middle – happy or sad, male or female," he said. "Some of it's unclear, if they're leaves and so on. It kind of works with that broken-down look to (the tree) as well."
Albright said children watching him carve the tree asked him questions, and it was fun to see them open up to the possibility of creating their own interpretations. "They really seemed to enjoy the spontaneity of it," he said.
1
/
6:
Cindy Lou Kaumans, at right, helps Lisa and Jeff Stremick of Fargo choose slices of pizza at a street food stand in front of Cindy Lou's restaurant on Sunday, while Tom and Kim Blut of Nevis buy drinks from Cindy Lou's daughter, Nicole Juneau. (Robin Fish/Enterprise, June 13, 2021)
2
/
6:
The weather was favorable for Sunday's Nevis Sites 'n Bites. (Robin Fish/Enterprise, June 13, 2021)
3
/
6:
Mary Spurlin, at left, displays her husband's handcrafted treasure boxes to Sites 'n Bites visitors Max, Penny, Stacy and Nate Luetgers and Morgan, Cecilia and Camden Quinn. (Robin Fish/Enterprise, June 13, 2021)
4
/
6:
The Duluth-based band New Salty Dog jams to the song "Done and Done" from their album "Pecan, Pecon" on the Shenanigans stage. (Robin Fish/Enterprise, June 13, 2021)
5
/
6:
Andy Grinnell, at left, and dogs Murphy and Molly pose for a photo with the Nevis Muskie taken by Bill Molison, all of Grinnell, Iowa, on Sunday during Sites 'n Bites. (Robin Fish/Enterprise, June 13, 2021)
6
/
6:
Hunter Schroeder braved a hot spot in the sun to entertain visitors on the patio at the Nevis Muni. (Robin Fish/Enterprise, June 13, 2021)
Mike Clemens, a farmer from Wimbledon, North Dakota, was literally (and figuratively) "blown away," when his equipment shed collapsed under a snow load.
The Minnesota Public Utilities Commission met on Jan. 5, 2023, to consider the application for Summit Carbon Solutions.
Qualified Minnesota farmers will receive dollar-for-dollar matching money to purchase farmland.