Some snowbirds are staying put this year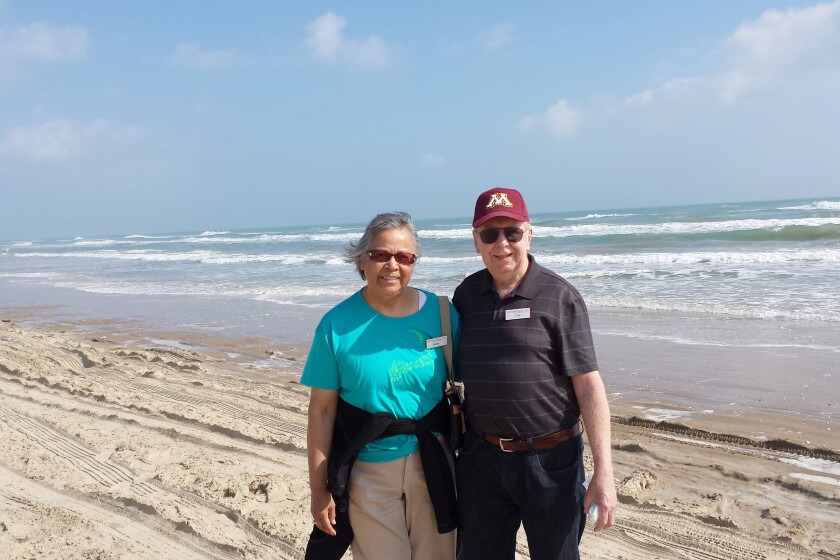 Every year when cold weather descends, many seasonal residents pack their bags and head south for the winter.
This year is much the same, but for a few snowbirds, COVID-19 and other issues are keeping them in Minnesota for at least part of the winter.
Hunkering down
Beeb (Anni) and Tom Magoris decided to stay in Park Rapids this winter instead of going south for the month of January as they usually do.
"We would usually go on a month-long bus tour down to Texas, but that's not happening because of the virus," Beeb said. "We live near the Heartland Trail and like to go walking. We also have cross country skis and I'd like to get some snowshoeing in. We put puzzles together and we've been spending a lot of time reading. We haven't gone anyplace. We do things to keep busy, and I'm sure glad we learned to use our smartphones."
Tom said he misses playing chess at the Park Rapids Senior Center, which has been closed since March. "We didn't consider flying to Texas," he said. "Since the tour bus isn't operating this year, we're staying put. I would like to be somewhere warmer though. January is a long month. We're going to hunker down and hope it's not 30 below. "
"We usually go down to Branson, too, and spend some time down there, too, but different states have different rules and some don't wear masks so I feel safer around here," Beeb said. "We just do what's necessary – grocery shopping early in the morning and medical and dental appointments as needed. The farthest we've gone was in March is Fargo, just before we sheltered in place. We stay home, try to get out and walk during the day."
Beeb said what she misses most is trips with Tom to the Fargo Theater. "We used to do lots of date nights where we'd go to a movie or a concert and then dinner, and not being able to get out and do things for entertainment, that's been challenging," she said. "We watch movies at home, especially classics from when we were young. We're spending a lot of time together and call family almost every day. I have a brother in a nursing home in Bemidji and a sister who lives in Roseville and Tom has a sister who lives in Wisconsin. And thank goodness, we have really good neighbors, Gina and Todd Williams, right next door to us. There are two elderly ladies across the street, and we're all in a little texting group. Gina will text us and say, 'Good morning, ladies, how are you?' or say she's going to do a Walmart run and is wondering if we need anything. That's really nice."
Beeb said she believes there are lessons to be learned in the midst of the pandemic. "People need to learn to be patient and try to be kind to each other," she said. "Sometimes people are just so rude to each other."
Hoping to head south later
Annie and Michael Johnson usually go to Texas around Nov. 10, but are staying put for now while Michael goes to physical therapy for help with lower back issues.
"About twice a week we talk about how maybe we should just stay home this year," Annie said. "I could see us venturing down there if his back was good, but I don't want to get down there and if he has problems with his back, there we sit. So we don't know what we're going to do at this point. It will all depend on his physical therapy."
After retiring as owners of Stan's Hallmark for 30 years, the couple has been going to Texas for the past seven years.
"We drive and take a trailer with a motorcycle trike in it," she said. "We go to the hill country and do some biking. We felt we could still do that this year as we go off by ourselves or with one or two couples, so we thought we'd be better off there where it's warmer than here, where it's freezing. We grew up in Minnesota, so we know what the winter's like, but you grow out of that and don't want to be here anymore in the freezing cold."
She said they didn't give much thought to the possibility that they could be exposed to COVID on the drive down to Texas.
"We were going to be a little more picky as to where we stopped, but we really weren't too concerned," she said. "We'd have sanitizer and masks along."
Johnson said she heard there was quite a bit of COVID in southern Texas as well as in the El Paso area.
"San Antonio does have some, but we're about 50 miles out of San Antonio," she said. "The little community we're in there is really nothing there (as far as COVID). We're in a park of about 90 units, and we've gotten to know everybody in our park. We always stop outside or in each other's places to chat a while. The visiting, the walking, I will miss that if we stay here.
"We're really not afraid of the virus. We just know you really have to take precautions to stay healthy. One by one I'm hearing different friends have lost a relation, their mom or dad to COVID, so you do have to be careful. I understand those people who are 10 years older than we are, who don't want to go because they are at higher risk. "
An avid walker, Annie says she walks three to four miles a day here in Minnesota, rain or shine. "I'm going to miss that if we stay up here," she said. "I'll probably be at Walmart walking and walking and walking."
She said they might consider going south after Christmas if all goes well.
While in Minnesota, she said they will be playing cards and doing puzzles to occupy their time. "We like to do that down there, too," she said. "Here, we get together with just a couple of friends, but not a lot of people. Down there, we get together on a daily basis. Up here, you are very limited as to what you can do in the winter because of the weather. I do think it is very hard on people like us. My husband is an avid reader, and I have done more reading because there isn't much else to do. We also have two grandchildren in Park Rapids. I feel bad for really older people because I know a lot of people who are just really lonely out there."
Usually the couple spends Christmas down south and have a chance to visit their son and his family down in Amarillo, Texas. They also have family in Stillwater and Park Rapids.
"We haven't even talked about what we're doing for the holidays yet," she said.