Sen. Coleman tours new hospital
U.S. Senator Norm Coleman gave a nod of approval when touring the new medical facilities at St. Joseph's Area Health Services and Innovis Health Park Rapids last week.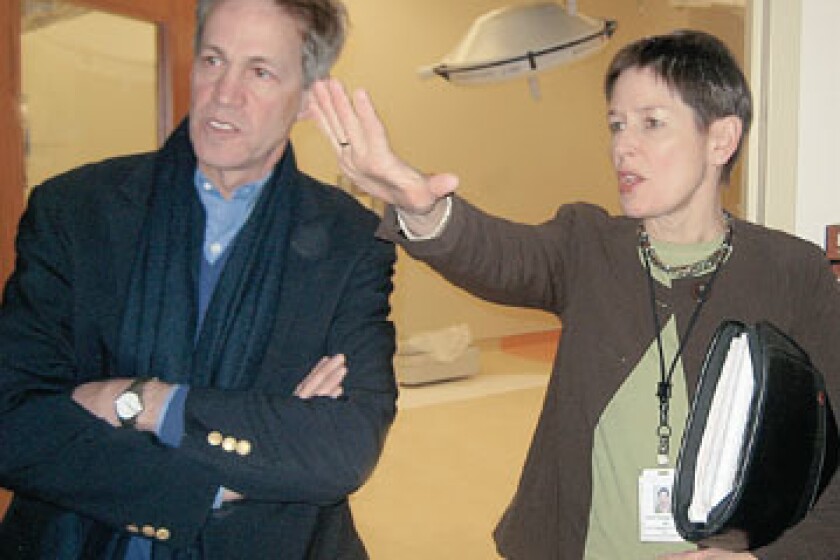 U.S. Senator Norm Coleman gave a nod of approval when touring the new medical facilities at St. Joseph's Area Health Services and Innovis Health Park Rapids last week.
Coleman was on site to see how the building and renovation project benefited from the New Market Tax Credit (NMTC) financing program and further expressed interest in learning more about the subsequent impact created by the joint venture.
(And, no, there were no conversations linked to recounts, mystery ballots or contested votes.)
With construction crews scrambling about to meet deadlines for the Monday opening, Coleman saw how the new clinic medical offices tie into the hospital while sharing a public entrance.
"Great vision," Coleman told Deb Haagenson, St. Joseph's vice president of patient care and tour guide. "Great integration."
During an initial briefing, St. Joseph's and Innovis Health administrators explained the project's history. Several other community leaders were also on hand to speak with the Senator.
Innovis Health's Fargo senior director/ administrative services Bob Bakkum noted the project has been in the dreaming stages for at least 15 years and in the planning stages the last four.
"With assistance of the Midwest Minnesota Community Development Corp. (MMCDC, Detroit Lakes) and NTMC funding, Innovis has been able to build a better project than we originally would have," Bakkum said. "Our initial plans for the clinic were a lot smaller than what we've got now."
The former clinic building clinic operated in an 18,000-square foot building that doesn't meet Minnesota's building code. On Monday, had 40,000-square feet in which to treat patients. There is more exam space, procedure rooms, office space and improved patient confidentiality.
"A key to this community is being able to recruit new physicians," he informed Coleman.
Laurie Albertson, Innovis Health Park Rapids division manager, noted that two primary care physicians have signed with intent to locate here since the project began.
Peter Jacobson, Innovis Health's vice president of regional operations/ primary care in Fargo and former St. Joseph's president/CEO who helped secure the joint venture, said having the clinic physically attached to the hospital best serves the patients.
"One of the beauties of this project is the collaboration between the clinic and hospital," Jacobson said. "There are so many smaller communities in which services are duplicated, and, by bringing the buildings together and creating a partnership, it makes them stronger.
It took a lot of teamwork, he said, and it was a "complex transaction," but was ultimately the only way for it to work in this service area.
As an example of cost savings as a result of the collaboration, Bakkum said Innovis at one time looked at putting a pharmacy into the clinic thereby being able to mix their own chemotherapy drugs. "We decided that for the good of the community, we didn't need another retail pharmacy in town," he said. "The hospital agreed to mix our chemo drugs, so we've eliminated the need to hire another pharmacist."
The joint venture allows savings in instances such as these when sharing services and go well beyond financing benefits from the MMCDC and NTMC.
The flow of the new facility is also quite impressive, Jacobson informed Coleman. He is witness to how this isn't always the case for medical facilities which undergo expansion. "The Sisters planned this building well for expansion back in the 1940s.
"The surgeons' offices are about 10-feet away from the surgery department," Jacobson continued. "Internal medicine physicians' offices are physically attached to the inpatient unit of the hospital. Given the fact that the building was added on to and expanded so many times and yet there is such great flow in the building is very remarkable and very advantageous for patient care."
Coleman was impressed by another example in which a joint venture between St. Joseph's and Innovis efforts is proving successful.
Haagenson said they've teamed together to form The Center for Weight Management, which earned a Center of Excellence Designation from the American Society for Metabolic and Bariatric Surgery in 2005. More recently it also became a Blue Center of Distinction by Blue Cross, Blue Shield.
"For a rural site, our outcomes are as good or better than most national outcomes for bariatric surgery," Haagenson said. "We have people who come to see us from hundreds of miles."
"It's very remarkable to think about bringing people out of the metro area into a rural community to receive healthcare, but it's happening here," Jacobson said.
Additionally, a second surgeon arrived in August to work in the bariatric program.
"The recruitment of that second surgeon would have been very challenging for us had it not been for these new facilities," said Cynthia Rooney, St. Joseph's Communication/Development Manager.