'It's everywhere': Food insecurity impacts rural, urban and in between
Hunger Solutions Minnesota and Great Plains Food Bank see SNAP and other nutrition programs in the farm bill as vital to keeping people fed, along with food banks, food shelves and other options.
According to a July 2022 report by Feeding America , rural counties make up 63% of all U.S counties but represent 87% of counties with food-insecurity rates in the top 10%.
That means counties with the highest rates of food insecurity are disproportionately rural.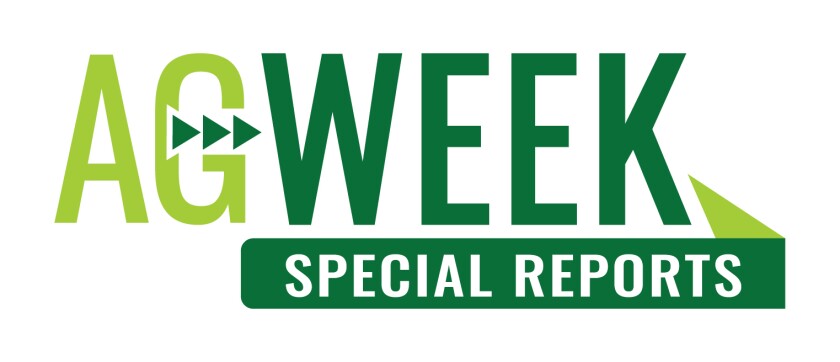 The farm bill is a massive piece of legislation Congress is called on to pass every five years. The bill encompasses farm policy and food insecurity, leading some members of Congress to call the farm bill a matter of national security. The current bill, passed in 2018, expires on Sept. 30, 2023. In this month's Agweek Special Report, we examine the farm bill — why it exists and what it does. That includes in depth looks at crop insurance and food insecurity.
"In North Dakota, 95% of the land area in the state is dedicated to ag production, so that's about as rural as you get," said Jared Slinde, communications director for Great Plains Food Bank, which is the only food bank in North Dakota and also offers service to Clay County in Minnesota. "So we're trying to be strategic with our food pantries, and we're able to work in different parts of the state along with our mobile food pantry, which is really geared toward battling rural food insecurity and taking trucks full of food out into underserved communities."
"We understand that hunger isn't just an urban issue, it's an issue all around the state," said Colleen Moriarty, executive director of Hunger Solutions Minnesota. "Hunger is not regional, it's not urban, it's not rural — it's everywhere."
With hunger being an "everywhere" problem , organizations involved in addressing it are open to many ways to get people fed.
Moriarty said that her organization approaches the issue of food security from a "holistic view," with its largest portion of work coming in the form of emergency food resources such as food shelves, food banks and meal programs. The organization also does SNAP outreach.
SNAP refers to the Supplemental Nutrition Assistance Program, a federal program that provides nutrition benefits to low-income individuals and families that are used at stores to purchase food. SNAP is one of the main nutrition programs enshrined in the farm bill , a piece of five-year legislation of policy around farming and food.
"It is the major piece of funding for anti hunger throughout the whole country," Moriarty said about SNAP.
The model of the Great Plains Food Bank is food recovery and distribution, and Slinde said the food bank serves about one in six individuals in North Dakota.
"Essentially our approach to fighting food insecurity is, we're going to take product that otherwise would go to waste, and recover that product from grocery stores, retailers and manufacturers, on top of a lot of different growers, farmers and gardeners," he said. "And then we're going to distribute it to the entire state, and do that through a range of about 200 food pantries that we work with, along with a range of church service programs."
The Great Plains Food Bank and Hunger Solutions Minnesota are in similar situations and have to advocate for a strong farm bill and maintained SNAP benefits.
"Essentially, if anything were to be cut from the SNAP program, and food wouldn't be available to those individuals, they're then going to need to seek that in other locations, and need to turn to places like the Great Plains Food Bank," said Slinde. "And we'd have a difficult time making up that difference."
Moriarity said the farm bill and SNAP are essential to hunger relief for the country, and her organization works with groups including Minnesota Farmers Union and Minnesota Farm Bureau on the farm bill and continued SNAP benefits.
Any decrease in funding of SNAP in the next farm bill will overwhelm already overloaded emergency food organizations like the Great Plains Food Bank in North Dakota and Hunger Solutions Minnesota, which recently released a report showing visits to its food shelves spiked in 2022, Slinde and Moriarty said.
In states where expanded benefits have already ended, 29% of SNAP recipients visited food pantries in December, compared to 22% in states that still had the benefits.
In April 2020, the federal government began providing emergency allotments to SNAP households as a way to offer a temporary boost in food assistance to weather the pandemic. Emergency SNAP, also known as E-SNAP, which increased SNAP household's benefits to the maximum amount for their household size, is coming to an end in March.
According to a recent report from Hunger Solutions Minnesota, a single person normally receiving a calculated benefit at the $23 minimum was receiving the $281 maximum for their household size. SNAP recipients losing the additional SNAP benefits they have received since the pandemic's beginning is a major concern for Hunger Solutions Minnesota, said Moriarity.
"No matter how many times you tell people that this is coming, it's still going to be a shock to people," she said.
The decrease in emergency SNAP benefits will have the same type of impact on the 47,400 SNAP recipients in North Dakota, said Slinde.
"In so many cases, (SNAP recipients losing additional benefits) are going to look to offset, and they're going to turn to organizations like ours, so we're going to see an increase in demand," he said. "That certainly has been a trend in the past, when benefits have been rolled back in certain situations."
"It's concerning," said Slinde of the Emergency SNAP benefits coming to an end. "It's a time when we have to be sure that our food pantries are stocked and our programs have what they need to operate to be able to meet any increase in demand."
In New Jersey, Governor Phil Murphy signed a bill to ensure every SNAP household in the state will receive at least $95 in monthly benefits going forward. Moriarity said a similar bill in Minnesota would go a long way.
"There's a lot of paperwork and due diligence you have to do (for SNAP benefits)," said Moriarity. "And people will question that for $23, even when they need it desperately."
Moriarity's advice to families facing a cut in SNAP benefits:
"Calculate your benefits as closely as you can, to make sure that you can qualify for as many benefits as possible," she said. "And then to visit the food shelves."
That's where a "tremendous need" for more food shelf funding comes in, she said.
Increase in food shelf visits
The upcoming end to Emergency SNAP will only exacerbate the issue of emergency food resources being drained. In 2022, visits to food shelves in Minnesota were up by more than 50%.
"Looking at the food shelf numbers in the state of Minnesota, they increased by 1.5 million in the last year, and that affected every county in the state, with the exception of one, which is really served by North Dakota," Moriarty said.
She said pandemic-related supports put in place by the federal government, such as unemployment, child tax credit and SNAP increases, kept food shelf numbers down throughout the most active part of the pandemic, but those supports have since been peeled away.
Now, the state and nation finds itself in a position where people facing food insecurity only have the option of going to the emergency food system, which is not prepared for the uptick.
According to the Hunger Solutions Minnesota report, the monthly statewide average of 458,758 visits to its food shelves in 2022 was up from a monthly average of 298,862 in 2021.
Highest percentage increases were in Lincoln County (442.2%) and Faribault County (307.1%) counties; Itasca, Washington, Sherburne, Cook, Anoka, Beltrami counties all had over 200% increases in food shelf visits.
Along with losses in pandemic-related support, inflation is a major reason for why this is happening, said Moriarity.
"Inflation is a major contributing cause for the fact that people can't afford food," she said. "You combine that with the effects of the pandemic, and you just see this dramatic increase in people needing assistance to be able to meet their needs."
Inflation is also affecting food shelves, which purchase federal government commodities that have become expensive.
And Slinde said food donations to Great Plains Food Bank are down "significantly" when the time of need is up.
"We need to certainly be aware of how everything all works together with the private sector like we are in, and the SNAP program, and how it all works together to defeat hunger for those in need," he said.
Addressing rural food insecurity
With food insecurity a significant issue in rural areas, Slinde and Moriarty said having a plan to get people resources is vital.
"We need to be able to service that entire footprint, not just the Fargos and the Bismarcks or anything like that," Slinde said. "So it's certainly a strong focus for us, and we have programs specifically designed to feed the entire state."
Moriarity said that it's more challenging for people living in rural areas to reach anti-hunger resources as well as nutritious foods.
"I think that the distance that people have to drive to get to the food shelf, or even to get to a grocery store, because many grocery stores have been lost on the main street of small towns throughout America," she said. "The replacement has been more of a regional strategy with big box stores."
According to a study published in the American Journal of Public Health , dollar stores — which tend to have foods higher in calories and lower in nutrients — have rapidly expanded in recent years, especially in rural and low-income areas.
"But it's hard to give a bad rap to Dollar General, because it serves poor people in a way that they really need," she said. "But on the other hand, the advent of opening two or three of those in a small town just forces out any other grocery options."