'Why Treaties Matter' at Nevis School this week
Visitors are welcome to view the interactive exhibit from 9:30 a.m. - 2:30 p.m. Monday through Friday.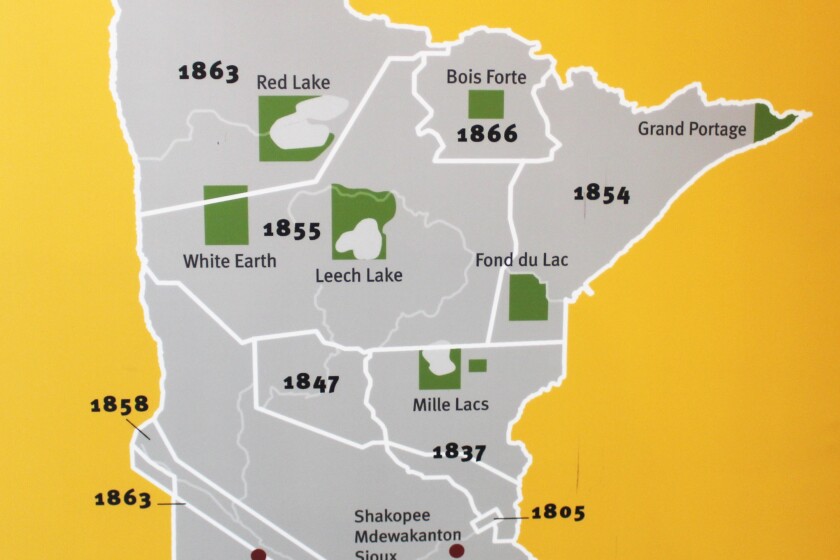 Learning about the importance of treaties between the United States government and American Indian nations is part of the mission of the traveling exhibit "Why Treaties Matter" from the Minnesota Humanities Center.
Mel Buccholz is the American Indian liaison at Nevis School. He said the latest numbers show 34 students enrolled at Nevis School identify as American Indian.
The exhibit is open to the public at no charge from 9:30 a.m. to 2:30 p.m. Monday, April 4 through Friday, April 8. Visitors should enter by the ramp door outside Tiger Arena.
There will be a visitor's guide with more information about the display, which will be located in the lobby and adjoining hallway. Staff and students will also be at the exhibit to help visitors with questions.
"There will be a kiosk with interactive sessions and visitors can use QRC codes on their phones to watch videos," said Buccholz. "There are 22 panels that cover a number of topics with information about tribes in Minnesota. The main focus is on how these treaties help everyone and why tribes can set tougher standards for things like water quality."
He explained that tribal sovereignty means that Native American nations are self-governing. "We have our own form of government on the reservations," he said. "Their own police force, their own court. A lot of people don't realize that."
One section of the display, "Broken Promises," talks about treaties that have been broken and the impact that has had on tribes.
Social studies teachers will be bringing classes through the display as well, and they will have educator guides with the Minnesota State standards built into it so it is easy to use in schools.
Buccholz said viewing the exhibit will likely take around 30 minutes and questions are welcome.
"Some of the American Indian students will be my greeters," he said. "They will be sitting at tables, making sure people sign in. We have to report back to the Humanities Center with how many people attended. I think this exhibit will benefit the community because it will help people understand some of the tribes in our area and the history."
A virtual tour of the exhibit is also available online at treatiesmatter.org.
In his first city council meeting after being appointed, Fire Chief Josh Winter presented a budget, obtained approval for LED lighting and pushed to increase firefighters' retirement benefit.