Tornado hits rural Menahga
Damage from the EF2 twister includes three buildings at the Keranen dairy.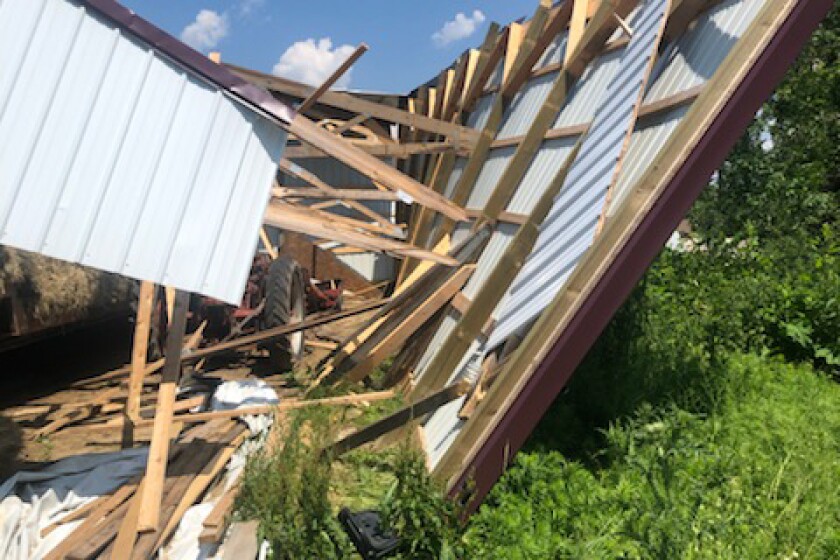 We are part of The Trust Project.
The National Weather Service confirmed that an EF2 tornado with peak winds of 115 miles per hour hit the rural Menhaga area Friday night.
Andrew Keranen said he was hunkered down in the basement at his residence near Keranen Dairy when the storm hit. The dairy is located 13 miles from Menahga one mile north of Hwy. 87.
"I lost three buildings," he said. "We had some cows trapped under a roof, but none received injuries. The forest looks pretty skeleton now. We're fixing fences and it took a few shingles off the roof of our house."
Becker County Sheriff Todd Glander said his deputies responded Friday to reports of significant storm damage in the area of Cotton Lake. "We spent a lot of time in that area because we had county roads that were shut down, due to trees over power lines, trees over roads.
"We later found out that there was damage to the east-southeast in Becker County, to include areas south of Height of Land (Lake), Little Toad Lake, Toad Lake, Wolf Lake area, and then toward Menahga."
Glander said he confirmed with the National Weather Service that rotation was observed in the Cotton Lake area, which initially prompted Friday's tornado warning. Another tornado warning was issued that night for the Huntersville area in Wadena County.
In recent weeks, the strength and position of the jet stream has favored very little storm activity.