Sunshine greets Menahga Midsummer
Organized by the Menahga Civic and Commerce Association, the festival from July 9-11, 2022 offered food, drink, music and merriment.
We are part of The Trust Project.
Menahga celebrated midsummer last weekend, offering fun for all ages.
Organized by the Menahga Civic and Commerce Association, the festival offered food, drink, music and merriment.
On Saturday morning, 76 youth clamored to catch and release as many sunfish as possible from the Spirit Lake fishing pier. The annual kids' fishing tourney was sponsored by the Menahga VFW Auxiliary.
The top three anglers with the most fish received prizes, while oodles of goodies were awarded via a drawing.
While Evan Malm, 9, delivered his third fish to the judges on Saturday, mom Brianna noted that her daughter was swimming. "You're done fishing, you can make a sand castle," she said of the family atmosphere.
Bennett Carty, 6, went fishing with his grandpa and dad. Midway through the derby, he had already caught eight or nine fish. He wasn't even sure. Hailing from the Twin Cities, Carty was visiting family in Menahga.
The Park Rapids Water Ski Team demonstrated its talents on Spirit Lake on Saturday afternoon.
2021 Miss Menahga Isabel Meyer and Little Miss Menahga Jayda Anderson, along with the contingent of princesses, are continuing their reign, due to a lack of 2022 pageant participants.
Meyer was nonplussed, saying, "It's exciting. I'm really looking forward to what's ahead – fishing derbies, parades, pageants. I make my rounds."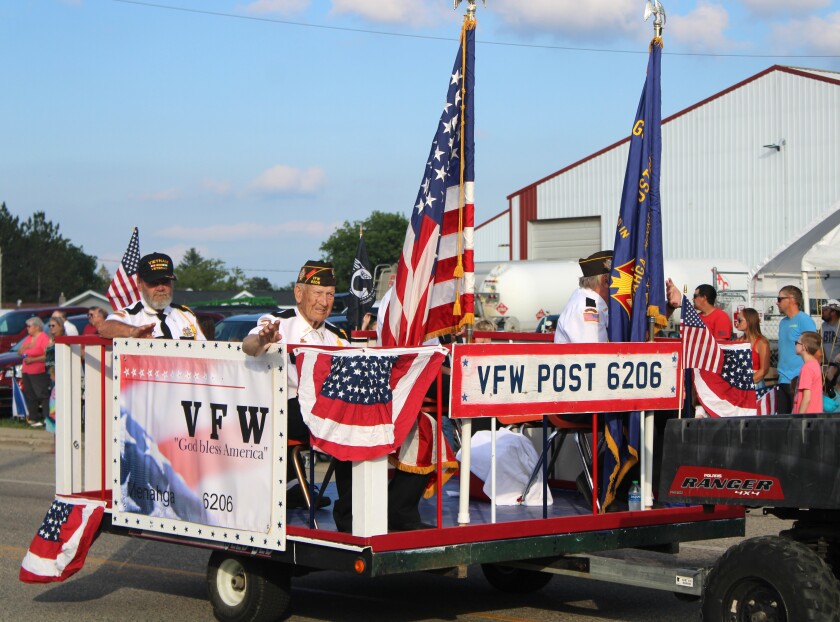 The festival's pièce de résistance, unquestionably, is the grand parade, boasting color guards, royalty, marching bands, dancers, bagpipers, fire engines, Shriners' antics and more. Young and old line the streets to watch this parade.
This year's grand marshal was the entire 2021-22 United North Central (UNC) wrestling team, the first in school history to qualify for the state Class A tournament. UNC finished in sixth place in the program's memorable trip to state.
Other Menahga Midsummer events included an art and craft show, horseshoe tourney, baseball tournament, antique car show and live music.
The St. Urho Run/Walk celebrated its 41st anniversary this year.
Patricia Tomperi won the Polaris Ranger in Sunday's raffle drawing. Other winners were
DiAnne Bade ($1,000), Kelly Maninga ($750), Mary Kay Moe ($500) and Vanessa Wikman ($250).
The Menahga City Council held a special meeting on Friday, Jan. 20 to speak to the two candidates.