Park Rapids community center talks begin
Approximately 25 people met at the Armory Arts & Events Center on Tuesday to discuss how to move forward.
Residents gathered on Tuesday to brainstorm the development of a community center.
Donna Anderson, SNAP-Ed educator for the University of Minnesota Extension, is facilitating the discussion.
Approximately 25 people met at the Armory Arts & Events Center.
Splitting them into small groups, Anderson asked them to identify the "roses," "buds" and "thorns" of Park Rapids. Roses represent what the region is doing well. Buds are things that could bring together and sustain a community center, along with any other things that the residents wish to see happen. Thorns are barriers or challenges.
The gathering reviewed the three lists at the close of the meeting, then pondered the next steps.
After speaking at ACTION Park Rapids, Anderson found a lot of interest in establishing a community center.
"I'm just the connector," she said of her role in the process. "We want everybody's input on why do you want it? What do you want to see and how can we do it?"
Anderson has quizzed youth and teens through her work.
Finding a benefactor and funding is a key element.
"It's the sustainability piece that's the biggest challenge," Anderson said.
Wadena, Perham and Detroit Lakes all have community centers. Investigating how they are operating will be part of this process, Anderson said.
Bill Steen pointed out that a coordinated use of existing public and private spaces, perhaps under the umbrella of "community center," may be a solution. "We don't have to build it," he said.
Gene Kanten suggested establishing an endowment fund. There may be people in this community that want to leave a legacy, she said. "Setting up endowments is a great way to sustain and fund something, but you've got to find those people."
Park Rapids Area Community Fund, said Sue Tomte, is a possible grant resource.
Mary Hein proposed that the state's budget surplus may result in an apportionment for a community center.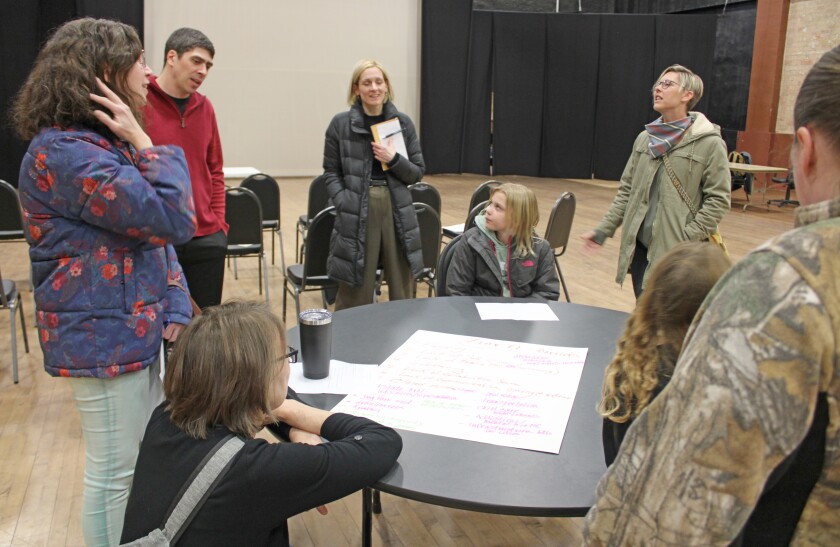 Will Olson, an AmeriCorps member working at the Armory, commented that the easiest thorn to address is the lack of communication and closed-mindedness. "Because if we're not thinking about how we're investing in the community, we're not going to get anywhere there," he said.
Gretchen Pederson suggested that a small group focus on researching funding options. "That piece takes a lot of work, I think," she said.
Kanten added that significant community leaders were absent from Tuesday's meeting, like bank presidents, business owners and more.
The next meeting will be at 4 p.m. on Monday, April 3 at the Park Rapids Library basement. Anyone interested in participating can contact Anderson at ande8387@umn.edu or 218-640-0285.