Menahga reposts city admin job opening
The Menahga City Council authorized reposting the job opening in "any and all" publications for professional services.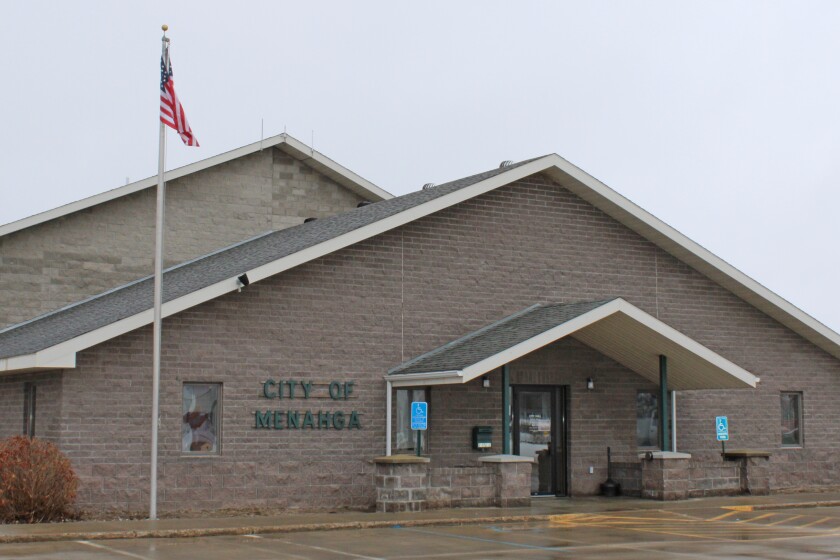 Menahga's search for a city administrator continues.
Mayor Liz Olson reported on Monday that she made 14 calls, based on recommendations from the city attorney and the League of Minnesota Cities (LMC).
Olson said two were already interim administrators, others were snowbirds. Five refused due to family or medical reasons. "Distance was a great factor for two very interested individuals," she said, adding that Wadena, Olvia, Breezy Point, Stillwater, Mora and Benson are also looking for a new city administrator.
Council member Art Huebner said he made calls as well. "I have four names out of 17 that I had called that are interested in the position. What do you want me to do with them? My information from the League is they're gaining names daily because of the time of year that it is, so it's no problem getting names from the League," he said.
"Who authorized you to call these folks?" Olson asked.
"We need an administrator," Huebner replied.
Olson pointed out that she and council member Durwin Tomperi are on the hiring committee.
The council authorized reposting the job opening in "any and all" publications for professional services.
The council voted 3-2 to appoint Jensine Kurtti as "the responsible authority to administer the requirements for collection, storage, use and dissemination of data on individuals within the city." The city is required, by Minnesota Statute, to appoint one person. Council members Robyn Keranen and Huebner opposed the appointment.
Kreklau dismissedFormer City Administrator Curt Kreklau was officially dismissed at Monday's meeting, effective Feb. 14.
In Oct. 2021, the council announced its intent to terminate Kreklau upon expiration of his veterans' preference timeline or hearings, whichever was later. They concluded that the council had not received accurate financial data, agendas and minutes were not provided in a timely manner, city investments had not been handled as requested, a debt study was uncompleted and the city had to expend more than $50,000 to complete a bank reconciliation and 2020 audit.
Monday's motion stated that Kreklau was not eligible for any Minnesota Veterans Preference Act rights related to his dismissal from city employment.
Greenwood ConnectionsGreenwood Connections Administrator Laura Ahlf reported that 2021 was a good year financially. The average census was 83%, while the breakeven point was about 78%, she said.
Ahlf reported that the Minnesota Department of Health visited the facility earlier this month to investigate an infection complaint related to a recent COVID outbreak.
"The complaint was unsubstantiated. There was no wrongdoing on our part, and no citations that were issued for infection control," she said, adding the facility was found to be 100% compliant with vaccine and exemption requirements.
Unvaccinated staff continue to test daily, Ahlf wrote in her report.
Gowns and other PPE for the COVID outbreak "will be a large expense for January."
The council approved the purchase of a 2014 Chrysler van with a lift for $5,500.
Decals for squad carTomperi made a motion to have "highly visible" decals on all police cars.
"The vehicle in question is the chief of police, which needs to comply," he said.
At the council's Jan. 31 work session, Olson said community members have complained about a lack of police presence. "Your car looks a lot like everybody else's car. Are you an undercover cop? Is that how you were hired?" she asked Menahga Police Chief Adam Gunderson.
Gunderson replied he is not working undercover and there was a 10-inch decal on the front passenger side of his squad car.
"It's probably not very visible, is that correct?" Olson asked.
"Correct, yes," Gunderson answered.
On Monday, without being invited, Gunderson sat at the council table. He said he was there to answer questions. Olson said that was unnecessary, as the matter had already been discussed at the work session.
Tomperi concurred, saying, "Can you step back?"
Gunderson left the table.
"Whoa! Yeah, don't ever do that again," Huebner told Tomperi.
Tomperi read his motion, saying, "For the good of the public and the city of Menahga, have all city-owned police cars display decals that clearly identify them as city of Menahga police vehicles."
It passed 3-2, with Huebner and Keranen opposed. Huebner claimed the Park Rapids and Sebeka police chiefs drive unmarked vehicles.
In other business, the council did as follows:
Passed a resolution requesting a 2021 audit by the Office of the State Auditor.
Directed public works director Ron Yliniemi to create a job description for all operational duties of a city campground manager. Based on the city administration's financial report showing a deficit at the city-owned campground, Tomperi recommended hiring a private individual to manage the park. Huebner was opposed. Deputy Clerk Tanya Edwards told the council she hadn't had time to investigate whether there were missing revenue receipts.
Approved Ehler's master arbitrage service contract for the Greenwood Connections 2017 bond and city's 2020 bond. The proposed base fee, respectively, is $2,750 and $2,250. Ehler's provides five-year reports for each bond.
Updated the city's COVID isolation and quarantine procedures, based on new guidance from the Centers for Disease Control. Huebner voted against it.
Approved a request by Matson of Minnesota LLC for a parcel split in the Odland Pine Acres Addition. They also approved Matson's request for a variance extension until May 11, 2022.