Local talent brings live music to Legends & Logging Days
This year's Legends and Logging musical acts will feature a selection of local talent.
We are part of The Trust Project.
This year's Legends and Logging musical acts, Saturday, Aug. 13 in downtown Park Rapids, will feature a selection of local talent.
Singer and guitarist Scott Jasmin will start the program, performing from 10:30 a.m. to 12:30 p.m.
Originally from Austin, Minn., Jasmin has worked as a registered nurse at the Mayo Clinic, a youth minister and a worship leader. After two years living in New Mexico and visiting their camper on Tenmile Lake near Hackensack, the Jasmins moved to Park Rapids in April.
"We just decided that we would rather live up north," he said. "That's where we want to be, and that feels like home."
Jasmin's solo act has been booked solid this summer with gigs all over the state. He describes himself as a singer-songwriter, dividing his playlist between covering radio hits of the 1970s – songs by the likes of James Taylor, Carole King, Carly Simon, the Eagles, America, Jackson Browne, Elton John, Neil Diamond, David Bowie and Fleetwood Mack – and performing original music that he calls Small Town Songs.
"All my songs tend to have some kind of reference to Austin or at least pay homage to small-town life," he said.
Playing from 12:45 to 2:45 p.m. will be saxophonist Doug Kuehn and pianist Debbie Center. That evening, they'll also play with Charley Wagner from 6 to 9 p.m. at Revel Brewing.
Center said the duo began playing together in December 2021, when Wine Not? asked for holiday music.
"We had never played together before, but we both love to improvise, so we knew we'd have a great time together," she said.
They play a mix of old standards, jazz and blues, covering the Beatles, Stevie Wonder, Elton John, Billy Joel, the Grateful Dead, Bonnie Raitt and more.
Trained as a classical pianist, Center said she now finds classical music limiting and is more excited about jamming with other musicians, creating music in the moment. "I love having an exciting conversation with other musicians through our music as we play off of one another," she said.
Kuehn repaired woodwind instruments and played sax in various Twin Cities groups during a 40-year period. "I'm enjoying meeting new folks like Debbie to play with in retirement," he said. "Our like-minded approach to pop tunes allows for experimentation with some of music's familiar pieces."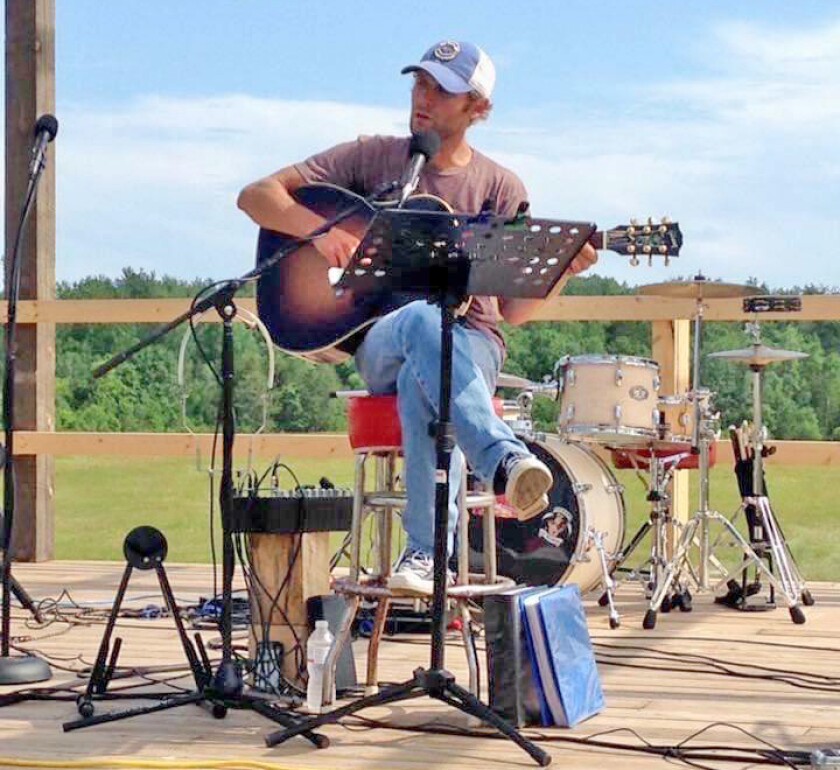 Wrapping up the program from 3 to 5 p.m., Taylor Schroeder of Virginia, Minn. sings, plays guitar and harmonic as well.
Originally from Nevis, Schroeder said he's been around music his whole life. "However, my guitar adventure started a little over a decade ago," he said. "I get my inspiration and play music from all genres of music, but focus on classic rock, folk and country."
Described on social media as experienced in playing bars, restaurants, coffee shops and weddings, he plays covers of many popular songs from all these genres.
8th annual Fawn Fun Fest
The Sleeping Fawn Resort is hosting a free concert of beach music from 2:30 to 5 p.m. Sunday, Aug. 14 on the north shore of Stocking Lake.
The Whips, a funky, groovy, fun-filled band from Kansas City, Mo. will be playing.
Bring your own chair or blanket. Public parking opens at 1:30 p.m. for shuttle service. A beer and wine garden, food vendors, face painting, playground and yard games will be available, with a hat being passed to raise funds for Northwoods Wildlife Rescue.
The Panthers follow a loss to Rock Ridge with a win over Walker-Hackensack-Akeley/Nevis.
The Panthers return a veteran group of swimmers and divers.
Park Rapids woke up to multiple inches of snow Dec. 6, with more into the afternoon and overnight Dec. 7.