Job seekers head to Heartland Lakes Career Fair
Fifty-seven employers filled the Park Rapids Area High School gymnasium on Friday, April 10.
Fifty-seven employers – offering jobs in management, engineering, manufacturing, health care and more – filled the Park Rapids Area High School (PRAHS) gymnasium on Friday.
The career fair was a partnership of the school, Park Rapids Lakes Area Chamber of Commerce, Heartland Lakes Development Commission (HLDC) and Rural Minnesota CEP.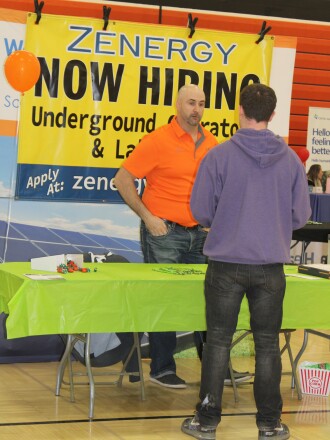 The first two hours of the event were devoted to student job applicants.
Melissa Backman, HLDC admin specialist, said Nevis, Laporte and Wadena schools bused students to Park Rapids. PRAHS students attended as well.
Late afternoon was dedicated to adult job seekers.
Teresa Walsh, along with daughter Katie, stopped at the Minnesota Department of Natural Resources (DNR) booth."I'm retired and I just want to have some part-time hours," Teresa said. She was inquiring about retail jobs at the Mary Gibbs Mississippi Headwaters Center.
The center attracts close to 600,000 visitors per year, said Tina Brandenburg-Cermak, a parks and trail associate for Itasca State Park.
Cynthia Holleman, also with Itasca State Park, said they were looking to fill food service, security and retail positions. "Those are the main jobs we are still hiring for at this point and time," she explained.
Brandenburg-Cermak added, "We have one of the best jobs in the world because 99.9% of people are happy."
DNR jobs are listed at www.mn.gov/careers.
"It's the best office in the world," Brandenburg-Cermak said.
Derek Ricke, Chamber president/CEO, said they were really happy with the adult turnout at the fair.
It's outperforming last year and previous career expos, he said.
Halfway through the public, adult portion of the fair, he noted they already had 60 participants.
While students certainly packed the gymnasium earlier in the day, Ricke said the return is more valuable with the adults who are immediately wanting employment.
"It's a great start," Ricke said. "Today's a good day."
HLDC Executive Director Mary Thompson said the committee tweaked the second annual event based on feedback from last year's attendees. They made improvements to the location, parking, timing and food availability.