Hubbard County anticipates 'forever chemical' testing
Hubbard County Solid Waste Administrator Josh Holte said counties will likely have to complete voluntary testing at solid waste facilities, like the incinerator and landfills. UPDATE: The Minnesota Pollution Control Agency released a PFAs monitoring list on March 22 which includes Hubbard County's north and south transfer stations.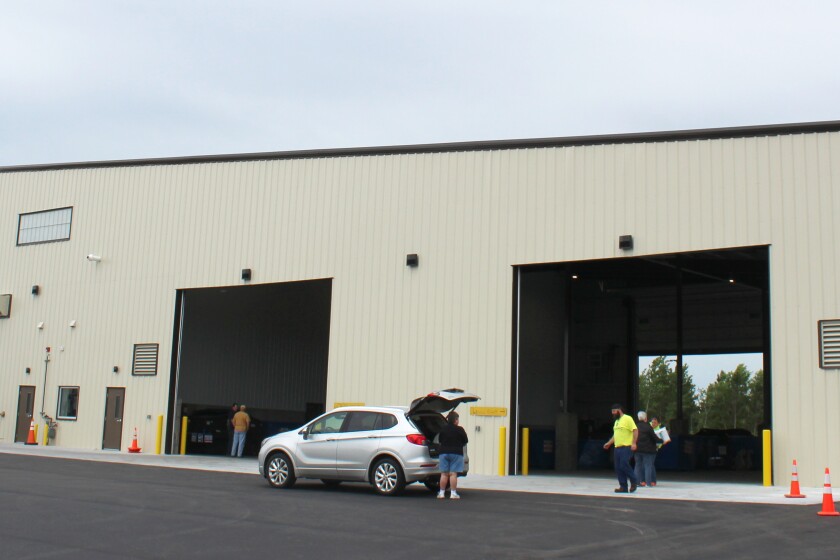 UPDATE: On March 22, the Minnesota Pollution Control Agency released a PFAS monitoring list that includes 137 manufacturing and industrial facilities, eight regional airports in Greater Minnesota, 91 wastewater treatment plants and 143 landfills, recycling facilities and composting centers.
MPCA officials are asking the facilities to conduct sampling and report back to the state by the end of 2023. Inclusion on the list means the facility could potentially be emitting PFAS into the environment and does not mean the facility is a confirmed emitter, officials said.
Hubbard County's north and south transfer stations are on the list.
Hubbard County Solid Waste Administrator Josh Holte briefed county commissioners on March 15 that counties will be facing issues with per- and polyfluoroalkyl substances (PFAs), a forever chemical that the Minnesota Pollution Control Agency (MPCA) is tracking.
According to the MPCA, PFAs are "a large group of nearly 5,000 different synthetic chemicals that are resistant to heat, water and oil. The U.S. Environmental Protection Agency classifies PFAs as emerging contaminants on the national landscape. Invented in the 1930s, PFAs are still commonly used for their water- and grease-resistant properties in many industrial applications and consumer products, such as carpeting, waterproof clothing, upholstery, food paper wrappings, cookware, personal care products, firefighting foams and metal plating."
Holte said counties will likely have to complete voluntary testing at solid waste facilities, like the incinerator and landfills.
"Voluntary will probably switch over to mandatory testing to be able to keep operating with permits," he said.
Holte anticipated that PFAs testing at the demolition facility would cost $20,000 to $50,000 per year.
"This will impact counties all across the state," he said.
He added that Polk County received a grant to install robots at the incinerator's sorting line because they've struggled to retain staff.
Holte also said that garbage volumes were "up considerably" in 2021 across the region.
"A lot of that was due to the pipeline project. Clearwater County had huge increases," he said.
Hubbard County's burnable municipal solid waste (MSW) is transported to the Polk County incinerator. Non-burnable MSW (bypass) is taken to the Polk County landfill.
"The good news was that the incinerator and landfill both ended the year in the black. I think that's the first time in a few years," Holte said. "That was due to the wild swings in the market, where they swung way up last year. Now they've settled back down a little bit, but they're still higher than they have been. With the current issues going on, they'll probably continue to swing up and down."
In related business, the board did as follows:

Approved a five-year contract with Howard's Paving, Inc. of Menahga for shingle recycling. Holte explained that the county collects clean shingles at the south transfer station. "We have about 8,500 to 9,000 yards of shingles onsite," he said. After searching for a contractor, Holte said Howard's Paving approached both Hubbard and Becker counties to provide this service. Shingles will be collected from the solid waste facilities at no cost to the counties, then hauled away, ground and incorporated into asphalt mix.
Holte mentioned that the crushed concrete pile at the south transfer station is "monstrous" at 12,000 to 15,000 yards.

Supported a resolution to seek a Minnesota GreenCorps member in 2022. Holte mentioned that the county has hosted two members in the past. "I think every year we apply our odds of success diminish, but I still think it's worth putting an application in," he said.
Approved the low bid of $619,144 from Wm. D. Scepaniak, Inc. of Holdingford, Minn. for aggregate surfacing in the south half of the county.
Approved the $127,534 quote from RDO Truck Center of Fargo, N.D. for two Mack tandem truck chassis, in combination with the quote of $127,738 from Bert's Truck Equipment of Moorhead for tandem truck snow plow equipment. Due to supply issues, County Public Works Director Jed Nordin recommended purchasing new trucks earlier than planned. "If we were to order a truck right now, we would not expect delivery until January 2023," he said. The snow plow equipment has a 48- to 54-week waiting period. The county does not pay until delivery.
Approved the low quote of $13,525 from M&R Sign Co., Inc. of Fergus Falls for highway sign supplies.
Approved the low quote of $3,099 from Up North Power & Sports for a trailer. It will be used for placing temporary road closure signs.
The Minnesota Pollution Control Agency says PFAs have been used for decades in consumer products and are difficult to avoid completely, but there are steps that can be taken to reduce exposure.
Cookware

Don't use non-stick cookware.
Cook with cast iron, stainless steel, ceramic, stoneware and glass.
Don't scrape or scrub non-stick cookware, overheat or put in a dishwasher.
Food packaging

Cut back on fast food and carryout. PFAs are used in the cardboard containers and paper wrappers.
Don't reheat food in grease-resistant packaging.
Make popcorn on the stove or with an air popper instead of microwave popcorn in PFA-treated bags.
Personal care products

Choose products without "PTFE" or "fluoro" ingredients.
PFAS has been found in products ranging from eyeliner to dental floss.
Search the Skin Deep database from the Environmental Working Group to find information on products you use.
Stain-resistant and waterproof fabrics

Avoid buying items that are labeled "stain-resistant," "water-resistant" or "waterproof," such as clothing, shoes and furniture
Carpet and rugs are a major source of exposure for infants and toddlers.
Water

Visit the Minnesota Department of Health website to learn about PFAS and drinking water.
People and pets should avoid contact with foam on lakes and streams. Wash skin that has come into contact with PFA-containing foam with soap and water.
Be heard

Contact your legislator about the importance of regulating PFAS. The bipartisan Congressional PFAS Task Force was formed in 2019. Minnesota members of the task force are Congressman Dean Phillips and Congresswoman Betty McCollum.
Hubbard County Auditor-Treasurer Kay Rave returned on Tuesday, Jan. 17 with a request to simply name the water body "Kennedy Lake" – this time with Minnesota Department of Natural Resources' (DNR) approval.