Heartland 200 brings 100 racers to town
The 125-mile, wooded course took racers from Park Rapids north toward Lake George, west to Island Lake, through the Paul Bunyan State Forest and toward Akeley and Nevis.
Snowmobile racers practically traversed the entire county over the weekend.
The Heartland 200 attracted 140 entries from 100 riders, according to COR PowerSports.
The 125-mile, wooded course took racers from Park Rapids north toward Lake George, west to Island Lake, through the Paul Bunyan State Forest and toward Akeley and Nevis.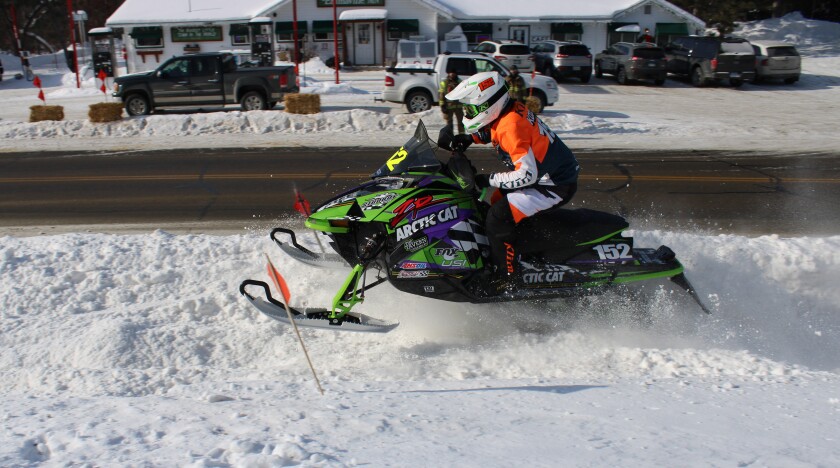 The race featured 19 classes – including junior, pro, semi pro and classic – offering many racers a chance to complete one lap around the course twice in two days. Complete results are posted at corpowersports.com.
This was the ninth annual race in Park Rapids.
The event is jointly organized by COR PowerSports and the Park Rapids Lakes Area Chamber of Commerce.
Candy Christensen, president and CEO of the Chamber, said "I think, all in all, it was a successful event. The racers really enjoy the fact they got to ride the terrain. The trail is very challenging for them, which they look forward to."
Unlike others on the snowmobile racing circuit, the Park Rapids course is full of wooded trails and ditches, making it a very technical course, Christensen explained.
Blake Higgins, a 2018 Park Rapids High School graduate, was the only racer from Hubbard County.
He competed in the classic, which ran on Sunday only. This was his second time at the Heartland 200.
"I ran it in 2020, but took off last year because it was an ice race instead of a terrain race and my snowmobile is not set up for that as well," Higgins explained. "I enjoy the race course's combination of groomed and ungroomed trails as well as groomed and ungroomed ditches. It is a great challenge to include different types of terrain and fun to be able to race on the local trails that I am used to riding recreationally."
Higgins said trail conditions were good on Sunday.
"The local snowmobile clubs were able to groom most of the trail portions of the track, but the ditch sections were pretty rough," he added.
His sled is an all-original 1997 Ski-Doo MXZ. "The odometer turned over 9,000 miles while practicing for the race, which is a lot of miles for any snowmobile, let alone a sled that I was going to race," Higgins said.
In 2020, Higgins finished first in the classic racing sleds division. This year, he placed fifth out of eight competitors.
"I was hoping to return and defend my classic title. I started in the back of the lineup for my class and after working my way through the pack to a podium position, I experienced some mechanical failures that pushed me back to a fifth place finish. With the amount of miles that were on my sled, I was satisfied with being able to finish the race in one piece," he said.
Higgins is no stranger to snowmobiling – or winning. Snowmobiling since he was five years old, Blake began watercross racing. His father, Joe, introduced him to the sport. Joe competed in the late 1990s and took Blake to competitions.
Blake said, "There are a lot of similarities and differences between riding on snow compared to water. Both require a lot of preparation in both rider fitness and mechanical setup for the snowmobile. Watercross races are over in a few minutes in comparison to a multiple-hour, cross-country race, so passing moves have to be made immediately rather than over a long distance. It requires similar mindset and preparation, but definitely a different riding style."
Higgins doesn't plan to compete in any more winter races.
"I'd say I prefer riding on snow better, but watercross racing is an awesome way to kill time in the summer months," he said.
Mollie Albrecht, the Chamber's marketing and communication coordinator, said, "I think the great thing about what this does, especially in the January-February time of year, is our hotels and resorts are booked up. These racers aren't just coming alone. They've got their pit crew with them, family that comes with them. Think about that: with each racer you've got at least four people. That's great for our community. And then they all go to Main Street."
Albrecht noticed that downtown Park Rapids was packed over the weekend and parking was hard to find.
"That's money that was spent in our community," she said. "That's not the main goal of the event, but that's definitely a perk for us."
Since 2013, the Heartland 200 has been an annual race, a return of a historic race that ran in the Park Rapids area from 1972 through 1980.
Christensen said there will be special plans for the 10th anniversary in 2023.