Federal grant could improve Hubbard County's landfills
Hubbard County, along with nine other counties, is applying for Solid Waste Infrastructure for Recycling grant from the Environmental Protection Agency. . It's funded through $275 million from the Bipartisan Infrastructure Law.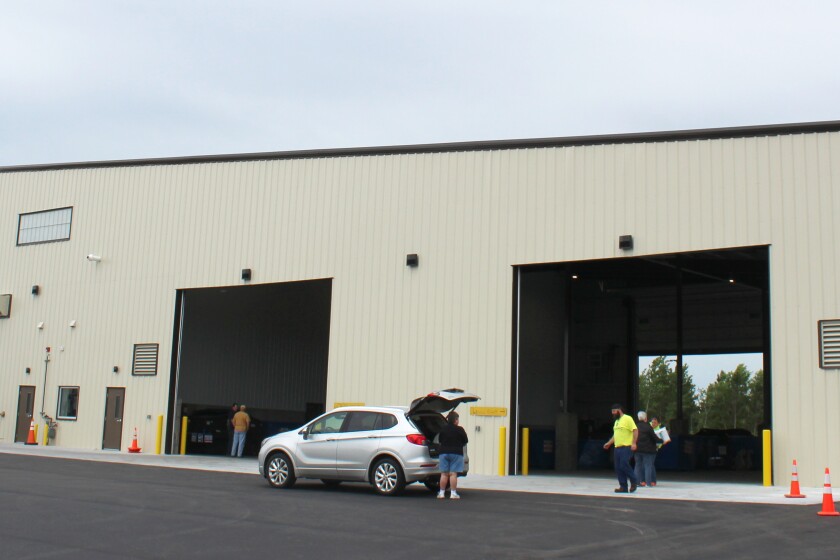 We are part of The Trust Project.
Hubbard County, along with nine other counties, is applying for a brand-new federal grant from the Environmental Protection Agency (EPA).
The purpose of the Solid Waste Infrastructure for Recycling (SWIFR) grant is to improve local waste management and recycling systems. It's funded through $275 million from the Bipartisan Infrastructure Law through fiscal year 2026.
Hubbard County Solid Waste Administrator Josh Holte told Hubbard County commissioners on Tuesday that $40 million is currently available. "They're anticipating awarding 25 grants across the country and at least one per EPA region."
Partnering counties are Beltrami, Cass, Clearwater, Hubbard, Mahnomen, Marshall, Norman, Polk and Red Lake. They are all currently participating in a regional construction and demolition landfill study.
Holte said that Stantec Consulting Services, Inc. of Fargo is completing the regional study. The consulting and engineering firm will be retained to complete the grant application.
The county board approved a professional services agreement with Stantec, totaling $11,700, to prepare the application. Holte said the nine counties will equally split this cost.
"We think, more than likely, this is going to be a very competitive grant, so we don't know if our odds will be very high, but we feel with the amount we could get for our region it's worth taking the time and putting an application together, especially since we'd be representing nine counties," Holte said. "In Minnesota, we have a very large geographical area with a lot of underserved communities, which should rank fairly high in the grant process."
The minimum grant request may be $500,000 and the maximum $4 million. There is no match requirement, Holte added, "so it's very enticing that way."
If awarded, Holte said, the counties would split the grant nine ways for landfill infrastructure. They would have three years to complete their projects.
When asked how the grant would be used in Hubbard County, Holte said the north transfer station could become a regional demolition landfill. In that scenario, a scale, road and other infrastructure would be constructed at the 160-acre site.
Polk County would be another hub.
"The nine counties would then haul their demolition to these two hubs," he said.
"In Park Rapids, we could do some improvements," Holte continued, like installing pads to go underneath demolition waste, expanding the building or purchasing hauling trucks.
Holte noted the northern landfill is within its last 10-year permit and there is no additional capacity.
"Really both facilities, the south and the north, are within seven to 10 years of being full," he said.
County commissioner David De La Hunt asked how long the northern station will last if nine counties deliver demo to it.
Each county "would be maximizing recycling and reuse before they haul demolition out, so they'd be taking out concrete and shingles and anything we can recycle," Holte said.
An 80-acre site has been utilized for 40 years at the north transfer station. If expanded to the neighboring 80 acres, Holte estimated another 40 to 50 years of use.
Polk County, on behalf of a six-county group, is also applying for a SWIFR grant.
This solid waste hauling group comprises Hubbard, Beltrami, Clearwater, Mahnomen, Norman and Polk counties.
The grant application will seek funds to improve the material recycling facility in Fosston, including robots, and upgrade the compost facility.
Understaffing is still an issue in Fosston, Holte said. "The biggest thing is the sorting lines' positions. They don't have people to sort the different types of plastics, so we're only able to recycle No. 1 and No. 2 plastics. If we had the robots in, we might be able to recycle No. 5 plastics and different types of films," he explained.
The county board approved a letter of support.
The board accepted the low quote of $22,535 from Servpro of Grand Rapids for cleaning the residential side of the south transfer station, following a Dec. 6 fire.
Holte said he worked with an adjuster through Minnesota Counties Intergovernmental Trust (MCIT) and received its authorization. MCIT is a joint powers entity made up of Minnesota counties that pool resources to provide property, casualty and workers' compensation coverage to its members.
In his report, Holte wrote, "Cleaning will be done as soon as possible and operations will be adjusted to allow cleaning during the day."
The December fire was the second to occur in 2022. According to the solid waste department, the first fire, in June, caused over $150,000 in damages. That fire started on the commercial side of the building, in the non-burnable pile at the transfer station.
Board chair Tom Krueger asked if the causes of both fires were the same.
"The second fire appeared to be someone throwing hot ashes into a dumpster," Holte replied. "The other fire we had back this summer, we weren't really able to identify a cause. Initial thinking is probably oily rags or rechargeable batteries, which is a leading cause of fires."
In related business, the board approved a new scale operator/administrative position. It was included in the 2023 budget.
Getting ready and going up is a challenge, but finishing is a rush