Free, legal 'mini-tech center' moves into Park Rapids Library
The legal kiosk may be used for court hearings, meetings with legal aid, unemployment hearings, printing or scanning pleadings, emailing documents or filling out forms.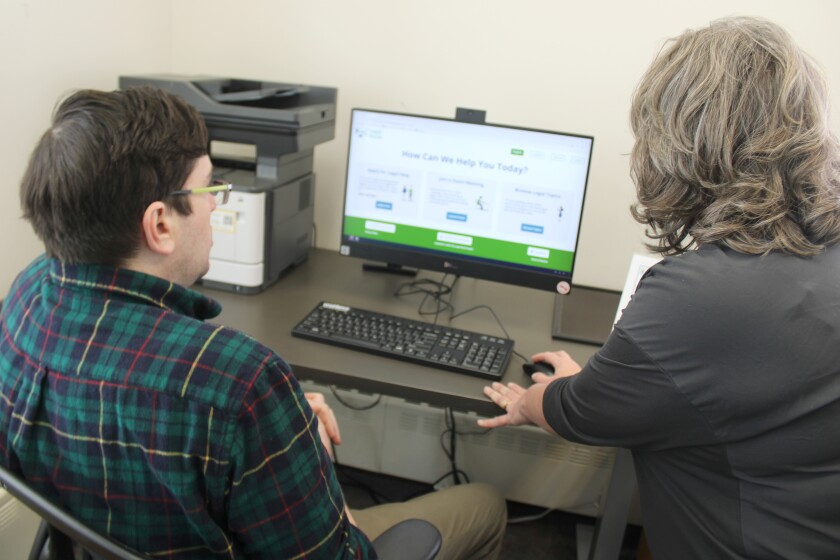 The Park Rapids Area Library is offering a new type of assistance: a legal kiosk.
Through a partnership with Legal Services of Northwest Minnesota (LSNM) and MAHUBE-OTWA, a computer workstation gives library patrons access to legal information, representation and the court system.
Library Branch Manager Jodi Schultz said, "We're excited to offer a new service to our community! I was contacted by Kelly Wencl, the communication and outreach coordinator for Legal Services of Northwest Minnesota."
LSNM (lsnmlaw.org) is a non-profit organization that provides free, civil legal help to low-income individuals and families in 22 northwest Minnesota counties, including Becker, Beltrami, Clearwater, Hubbard and Wadena.
The kiosk may be used for court hearings, meetings with legal aid, unemployment hearings, printing or scanning pleadings, emailing documents or filling out forms.
Wencl told Schultz that the MAHUBE-OTWA office in Park Rapids originally hosted the legal kiosk, however, due to some renovations, they were no longer able to do so "and enthusiastically suggested reaching out to the library."
"Public libraries have been amazing partners in this project," Wencl said.
"It's a great place to have this," Schultz agreed.
The legal kiosk is now situated in an upstairs meeting room at the Park Rapids Library, allowing patrons the privacy, time and space to address legal matters.
There are over 250 legal kiosks across Minnesota. Nearly 60 are in northwest Minnesota, according to Wencl, including at the Bemidji and Fergus Fall public libraries.
Wencl reported that the Bemidji site was "one of the most highly utilized in our service area."
He continued, "It's worth pointing out that the kiosk can be used by community members for a wide variety of things, such as telehealth appointments or job interviews. It is not limited in capacity to only legal topics, information and resources."
Host sites are asked to provide 24/7 internet access on a secure network (wired or Wi-Fi), power to the kiosk and printer paper.
The desk, chair and touch-screen monitor are all adjustable, so they are physically accessible. The kiosk is capable of using four languages.
"It seems pretty intuitive," Schultz said of the kiosk's user-friendliness.
To make a reservation, call the Park Rapids Library at 732-4966.
Breaking the 'digital divide'
In spring 2020, COVID-19 shut down LSNM's ability to reach its low-income clients. "At the same time, courts also shut down and have now transitioned to remote hearings for many hearings. Access to court hearings was only attainable to those who had the technology to attend," Wencl explained. "To respond to this new reality and the 'digital divide' it created, the Minnesota legal aid community applied for and received CARES Act funding."
The funding allowed them to purchase and install legal kiosks across the state.
"This statewide network of legal kiosks allows the public the ability to access legal information, attend court hearings and connect directly with legal aid," Wencl continued. "These legal kiosks are mini-tech centers that are hosted by community partners, and allow for video access to an attorney or courthouses, along with printers, scanners, etc. The kiosks will provide safe access to legal information and legal aid lawyers across our service area."
Users may also find answers about housing, money and debt, immigration, disability and public benefits at the legal kiosk as well.
"Our on-going challenge is to find the best and highest use locations of this resource," Wencl said.
More information about the project and kiosk locations can be found at www.legalkiosk.org.