Faculty gets pied for fundraiser fun
Pies in the face and a human sundae were among students' rewards for a successful PTA fundraiser.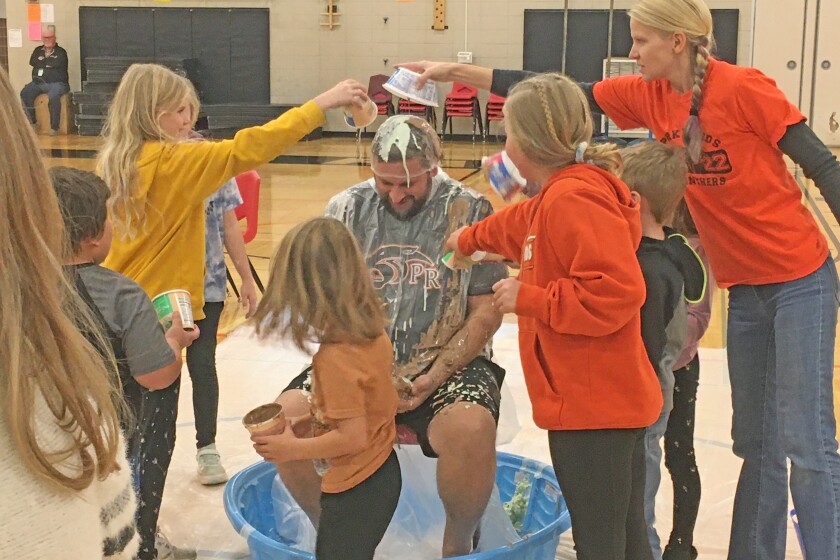 We are part of The Trust Project.
The Park Rapids Parent Teacher Association (PTA) topped off its fall fundraiser Wednesday with whipped cream.
"Our fundraiser through Fundhub was a move-athon encouraging students to be active for at least 30 minutes a day," said Doll. "Our goal was $25,000, and we have raised $34,000."
Students' rewards for their fundraising efforts included a pie-a-teacher-in-the-face event at a pep fest at Century School.
Middle school teachers receiving a pie in the face included Brianne Morris, Garrett Kovach, Chris Kirchner, Bill Moore and Jack Brumback. Pied from the elementary side were Jennifer Michaelson, Jodi Erickson, Casey Hilden and Kristen Poehler.
According to RaNae Doll with the PTA, middle school students voted for which of their teachers got a pie.
In addition, students turned Principal Mike LeMier into an ice cream sundae with whipped cream, chocolate syrup and hot fudge.
Park Rapids Area High School took a break for school spirit-inspired fun on Wednesday afternoon, Feb. 1.