Equipment fire near Badoura extinguished quickly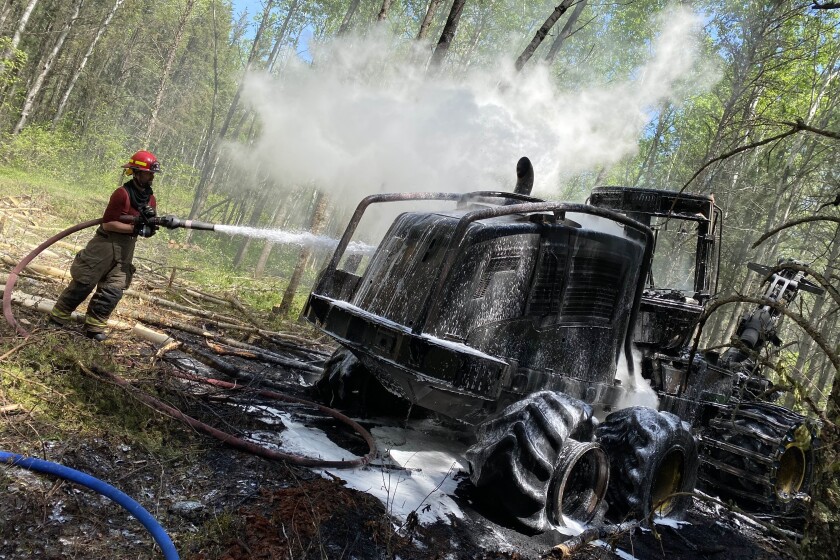 We are part of The Trust Project.
A fire in Badoura Township Wednesday morning is believed to have been caused by a piece of equipment being used to cut down trees in the area catching fire.
A crew from the Eastern Hubbard County Fire District responded and quickly extinguished the fire. Two members of the Park Rapids Department of Natural Resources were also on the scene.
The fire was located south of County 109 on the Hubbard/Cass County Line Road.
Cory Kimball, a forester with the Park Rapids DNR, said it was in a difficult area to respond to as there are no nearby fire departments.
"It takes a while to get to that area. I think it's probably 15 to 20 miles from Akeley, west of Badoura kind of between Badoura and Huntersville," he said. "Pretty much the only thing that burned was the equipment and three or four trees surrounding the equipment."
Kimball said the EHCFD crew were first on scene and were able to extinguish the fire to keep it from spreading through the thick pine stand surrounding it.
"I believe it was a processor that started on fire," he said. "The faller that cuts the trees down. The DNR was there for contingency reasons in case the timber caught on fire. ECFD had three engines and we had one engine on standby. Kyle Haugen was there with me too from the DNR."
A large fire in rural Nevis was put out with the help of air drops from the Minnesota Department of Natural Resources (DNR), along with ground work by the Nevis Fire Department, Eastern Hubbard County Fire District and DNR engines.