Details of Huebner's latest censure emerge
Interim City Administrator Betty Thomsen also recommends a forensic audit starting with fiscal year 2020, saying, "I have a fiduciary responsibility to the city of Menahga and I want to rule out any possible wrongdoing."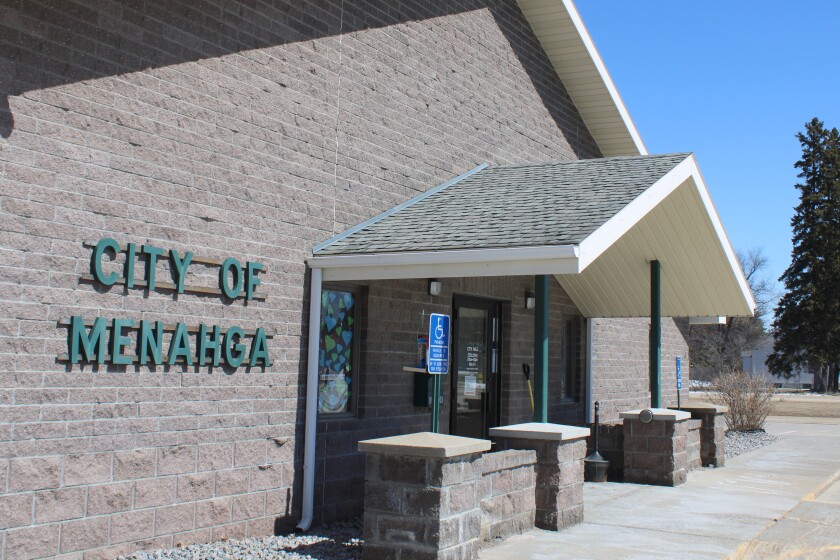 We are part of The Trust Project.
As expected, the Menahga City Council censured Art Huebner for violating the code of conduct.
They met on June 8. Huebner was absent.
The resolution of censure, drawn up by legal counsel, states that Huebner "failed to contribute to a supportive, respectful and non-threatening work environment. From November 2021 through April 2022, Huebner sent 20 emails to a city of Menahga employee. The emails were sent in such a manner to bully, harass, intimidate and badger the employee. The sheer number and frequency of the emails interfered with the employee's ability to perform his or her job duties and responsibilities."
The resolution continues that, in March 2022, Huebner frequented city hall "to intimidate, bully and micromanage the employee's job duties and responsibilities."
Huebner further "undermined" the city council on March 31 when he "emailed a frivolous complaint against the city of Menahga to the city of Appleton's city administrator."
Finally, the resolution says Huebner has emailed the city employee requesting public data, insisting he doesn't have to file an official data request and pay associated costs because he's a council member.
The resolution passed 3-1, with council member Robyn Keranen abstaining.
Forensic audit to rule out wrongdoing
The city council hired Eide Bailly LLP to continue its forensic audit services.
Interim City Administrator Betty Thomsen reported, "I have a fiduciary responsibility to the city of Menahga and I want to rule out any possible wrongdoing. With that in mind, I am recommending that the city move forward with an in depth audit of the dollars for which there is no supporting documentation."
Thomsen said Eide Bailly estimates the cost anywhere from $30,000 to $65,000.
"It's not cheap," she said. "If you move forward, understand that the funds for this would need to come from the investments that you have with 4M."
Mayor Liz Olson said the council has fiscal responsibility to the city as well.
Keranen asked how far back the certified public accountant would investigate.
Thomsen said she would suggest they start with fiscal year 2020.
The motion passed unanimously.
In other city business, the council did as follows:
Set a public meeting for 7 p.m. on Tuesday, Sept. 13 to discuss an energy and environmental plan for the city. Thomsen said there was a strong possibility the city could receive funding from Region 5 for projects like solar panels at the tennis courts, switching city street lights to LED, energy audits and more. A public survey will be conducted as well.
Approved a Lakeside Floors and Design quote of $21,818 for carpet at Woodside Manor. They also approved a $270,000 quote for roofing from Revival Roofing.
Approve a 3% cost-of-living wage increase, with adjustments, for licensed maintenance, accounts receivable/payroll/human resources and the business manager positions at Greenwood Connections.
Learned that nine residents and three staff tested positive for COVID-19 at Greenwood Connections over the past two weeks.
Authorized a $109,250 payment to Maquire Iron Inc. for their work on the new water tower.
Received preliminary approval from the Minnesota Pollution Control Agency of the city's 2024 sanitary sewer and water system improvement, but the MPCA advised that the "project ranks too low to be in the fundable project range." City engineer Brian Hiles noted there will be additional funds available through the Bipartisan Infrastructure Bill this fall.
Paused enforcement of requiring department heads to attend council meetings because the city is currently in contract negotiations with the union.
Alerted Minnesota Power that one of their high-voltage electrical poles, located on the west side of the tennis courts on U.S. Hwy. 71, is leaning and "definitely weakened." given its proximity to a chain link fence, Thomsen warned the company of the safety concern.
Acknowledged Dustyne Hewitt's successful completion of her 90-day probationary period as administrative secretary and retained her as a full-time employee.
Donated $725 to the Initiative Foundation, which works to build "a thriving economy, vibrant communities and lasting culture of generosity" in Wadena County.
Approved the purchase of a four-drawer filing cabinet, costing $318 from Amazon.com.
Learned from the Minnesota State Demographer that Menahga's 2021 population estimate is 1,349 and 563 households.