City of Menahga completes 2021 audit, so it won't lose Local Government Aid
Interim City Administrator Betty Thomsen also addressed a rumor about the city's cash balance. Plus, temporary administrative technician Jensine Kurtti discovered four undeveloped lots owned by the city.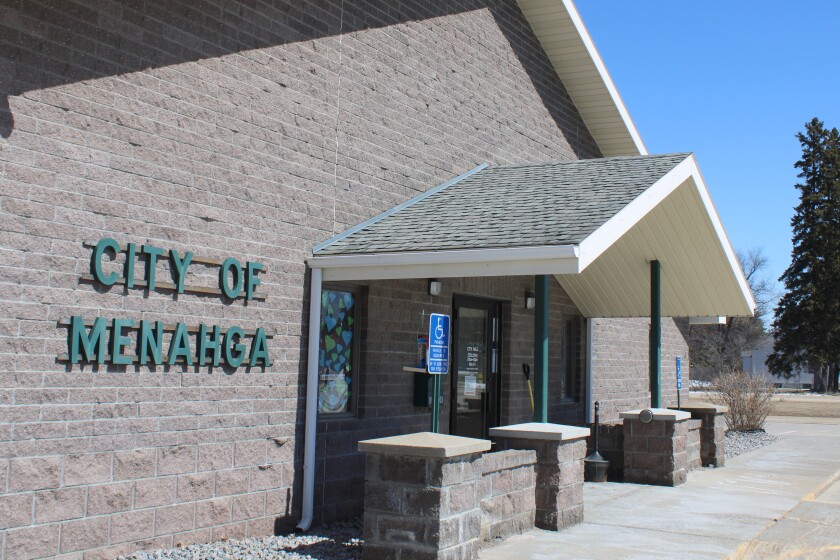 We are part of The Trust Project.
The Menahga City Council approved its 2021 audit last week.
This was a major achievement given that, earlier this year, the city struggled to find a certified public accountant willing to work with them in the wake of staff departures, unpaid bills, incomplete accounting and council member allegations.
In February, after the city did not receive any proposals from potential auditors, the council resolved to secure the Office of the State Auditor (OSA) for the job, but OSA replied they did not have the staff.
The audit was due June 30, 2022. The city secured an extension.
After the city rehired Betty Thomsen as interim city administrator and Alvina Kytta as temporary deputy clerk, Dean Birkeland, a CPA with CarlsonSV of Fergus Falls, agreed to do the 2021 audit. Kytta served as Menahga's deputy clerk from 2012 until January 2019.
According to the audit, key highlights of 2021 were the following:
The assets and deferred outflows of resources of the city exceeded its liabilities and deferred inflows of resources by $6,075,175 (net position), as of Dec. 31, 2021. Of this amount, $1,863,981 (unrestricted net position) may be used to meet the city's ongoing obligations to citizens and creditors.
The city's total net position decreased by $1,034.
Government-wide revenues were $3,064,460 while expenses totaled $3,056,494.
At the close of the current fiscal year, the city's governmental funds reported combined ending balances of $738,862, a decrease of $1,188,133.
The city's total bonded debt decreased by $1,779,000.
The audit report continues, "A large portion of the city's net position (57%) reflects its investment in capital assets (e.g. land, land improvements, buildings, equipment and infrastructure), less any related debt used to acquire those assets that is still outstanding.
"An additional portion of the city's net position (12%) represents resources that are subject to external restrictions on how they may be used. The remaining balance of unrestricted net position may be used to meet the city's ongoing obligations to citizens and creditors."
Property taxes and intergovernmental revenues accounted for 29% of the total revenue in 2021, according to the audit.
The net position decreased by $163,613 in the city's water fund and $13,804 in its sewer fund. The liquor store fund's net position increased by $146,661.
As for the city's budget, actual revenues were $73,970 higher than expected "due primarily to camping and park rental fees not budgeted for and a small cities assist grant received from the state. The actual expenditures were $125,807 higher than budgeted. This was due to administration expenditures that were higher than anticipated."
At the end of fiscal year 2021, the city had long-term, outstanding debt of $6,860,000.
Cash balance clarification
Thomsen addressed a rumor that cash was missing at city hall.
"It's a small town. It's like 'Telephone.' … The cash balance at the end of 2020 was off by $328,000. I didn't mean the cash was not here; it was just not allocated in the right areas," she clarified.
Thomsen said she's aware there's "scuttlebut" about the cost of "us ladies here at city hall," referring to herself, Kytta and Dustyne Hewitt, who is city administrative secretary.
Thomsen pointed out that they redid the work of 2021, while keeping up with current finances.
"Alvina went through absolutely every transaction that was done in 2021. She found all but $17,000 of that cash. That's phenomenal," Thomsen said, adding, "We had some rough treatment here, some very rude citizens to us. It hasn't been fun. When we're doing the work of two people, that's not fun either. I just want people to understand, when you hear things on the street, please come here. We can show you in black and white what the truth is."
Rude behavior reduced Kytta to tears several times, she said.
Prior city administration and some council members blamed Banyon for the city's financial mess. It is an accounting software program used by numerous cities throughout Minnesota.
"I'd like to put this in very simplistic language," Thomsen said. "If you took your car to have the oil changed and they put the oil in the radiator, would you say it's the car's fault? The radiator's fault? Or would you say it's the operator's fault? That's how Banyon works. It's a computer program. We manually put that information in. Banyon is working."
Thomsen praised Kytta for her knowledge and help to correct bookkeeping errors.
Temporary administrative assistant Jensine Kurtti discovered four empty city lots that could be sold and put back on the tax rolls.
Kurtti found that the city owns three lots in Odland's Pine Acres Fourth Addition and one in Odland's Fifth Addition. They have city utilities and no special assessments. The land value ranges from $18,200 to $18,700.
While looking at a map, Kurtti wondered who owned the four undeveloped lots. "Much to my surprise, the city of Menahga owns them."
In the 1980s, she said, the city purchased the lots in case it wished to expand the cemetery. One issue, however, is that large trees exist between the lots and the cemetery. Kurtti said there is room elsewhere for the cemetery to expand, and most burials are cremations nowadays.
Thomsen said the council could declare the lots as excess city property and sell them. She said she would prepare a resolution.
In other business, the council did as follows:
Approved a pay increase for city campground manager Ralph Cox. Beginning Sept. 1, his wage rose to $19 per hour.
Approved the purchase of one ton of washed beach sand, at $21 per yard, for the city beach.
Agreed to offer the city's 2011 Caterpillar road grader, at a price of $200,000, to the Wadena County Highway Department.
Learned that the Minnesota Department of Transportation said the city can paint the curb at the U.S. Hwy. 71 and State Hwy. 87 intersection to restrict parking within 30 feet of stop signs.
The Touchdown Pepperoni Cheese Ball features a medley of popular pizza flavors including mozzarella, Parmesan cheese, olives, jalapeños, onion, garlic, crushed red peppers, oregano and pepperoni.