Block party to celebrate Day of the Dead
The traditional Latin American holiday combines Catholic and Indigenous themes, celebrating death as a part of life, according to the event's organizers.
We are part of The Trust Project.
The Mexican Dias de los Muertos (Days of the Dead) is coming to downtown Park Rapids on Tuesday, Nov. 1 for a first-of-its-kind celebration.
Organizers Alondra Cano and Scarlett Lopez will join Winona LaDuke, Honor the Earth, Akiing 8th Fire solar energy, Anishinaabe Agriculture and Vallartas Mexican Grill in front of the former Carnegie Library, across 2nd Street West from Vallartas.
According to a press release, the historic building is to become the Giiwedinong Indigenous Civil and Treaty Rights Center. Cano said LaDuke plans to "rematriate" the old library as "a beautiful museum relating to the treaty rights of the Ojibwe people."
The release explains Days of the Dead as a holiday "based on Indigenous traditions that embrace the interconnection between life and death … the time between for change, transition and future-building."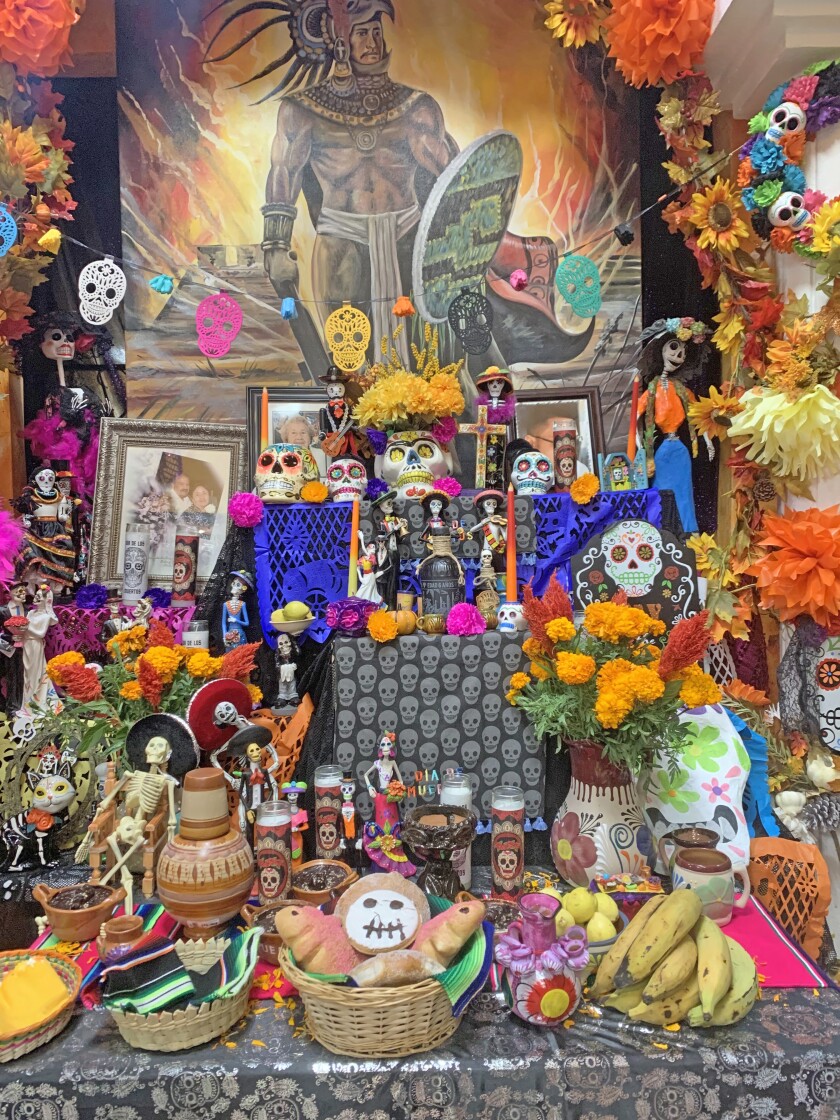 The event begins at 4 p.m. with the community building a colorful ofrenda (altar) by bringing photos of loved ones they want to remember or honor, decorating sugar skulls and making sand murals on the sidewalk.
At 5 p.m. LaDuke, youth water protectors and local business owner Sergio Barajas will speak about their special reasons for the gathering. Members of the public may also share their stories of grief and loss during an open-mic session for community healing.
Festivities continue from 6 to 8 p.m. with traditional Mexican food, music, face painting, pony rides and a street dance featuring Corey Medina & Brothers.
Cano and Lopez, who both live in the Twin Cities, visited with the Enterprise to explain where they're coming from with this celebration.
Cano came to the U.S. from Mexico at age 10, settling with her family in Meeker County. Lopez's family immigrated from the southern Mexican state of Oaxaca – part inspiration for the 2017 animated film "Coco" – about 30 years ago.
"Historically, what we know today as Days of the Dead has become a blended cultural practice between Catholicism and Indigenous ways and traditions," said Cano. "The roots of it are very Indigenous, but the current iteration of how it presents in different communities throughout Latin American and Mexico really varies, depending on the location."
Cano said their aim in bringing this tradition to Park Rapids is "to reflect the local community connections and culture. That's why this is going to be really special, because the Days of the Dead celebration here is going to be very unique to Park Rapids."
Meanwhile, Lopez stressed that the Days of the Dead (usually Nov. 1-2, but here held on one day) present death as "not something to dwell on, not something to be sad about. It's a celebration of life, actually; of the history or the presence that the person has on this world, and now has passed on to a different dimension."
In contrast to U.S. culture's somber imagery of death, they said, Latino tradition paints it in bright colors, featuring the golden-petaled cempasuchil flower – a marigold-like beauty whose scent takes Latin Americans back to their homeland.
To bring these "flowers of the dead" to the ofrenda in Park Rapids, Cano and Lopez are turning to a Latino farmer in Wisconsin who started growing it a couple years ago. Cano said this will make it possible "to infuse all of these celebrations with that locally grown, beautiful flower that helps us reconnect with life and death and everything in between."
Joining these flowers, candles and mementos of departed loved ones on the ofrenda will be some traditional foods.
The main ones, Lopez said, are pan de muerto (bread of the dead), a sweet roll decorated with extra pieces of dough shaped like bones; hot chocolate, recognizing the pre-colonial American origins of chocolate; champurrado, a warm, corn-based drink flavored with chocolate; and tamales, which also feature corn.
"Some of the components of Days of the Dead that go back hundreds and hundreds of years relate to the foundations of corn," Cano said. "The ceremony that we will be doing with Winona is going to have a lot of that heirloom, heritage corn presence."
The ceremony will feature corn from local Anishinaabe farms; wooden spoons (used for stirring the champurrado) made by artisans in Montevideo, Minn.; masa (maize dough) from Mexico in the champurrado and tamales; and traditional dishes made by Mexican chefs, including staff at Vallartas.
Using fun to process grief
According to Lopez, many people celebrating Days of the Dead have their faces painted with Catrinas, a satirical skeleton character, while wearing traditional dress. Male versions are called Catrines.
"What I think is very beautiful from the tradition is everything is so colorful, so vivid and so lively," she said.
"We have a very intimate relationship with death," said Cano. "We acknowledge, every year, through Days of the Dead, that death is a part of the cycle of life, and that they're interconnected, and we would even be as bold as poking a little bit of fun and comedy at it, as a way to cope with loss and grief.
"We acknowledge that those feelings are very normal and healthy to have, and we embrace those feelings, and we share them in community, and we process them through music and food and ritual and the ceremonies and this co-creation."
Cano stressed that they want this to be a cultural experience for everyone, not only those of Indigenous or Latino background – to "make it something organic and true here … a multicultural, welcoming experience for many people to participate.
"We're looking forward to celebrating and joining and learning and collaborating and co-creating."
The winners will go on to perform at Section 6A competition Feb. 4 in Hawley.