Artists delve into unique crafts at Art Leap 2022
From electrified wood to Scandinavian folk art, guest artists displayed multiple talents on Saturday, Sept. 24.
We are part of The Trust Project.
More than 90 local artists displayed their talents at the 2022 Art Leap, held at 24 locations in Hubbard and Becker counties.
Bickey Bender hosted a bevy of artists at her Big Sand home.
Glenn Anderson brought his intricately hand-carved kubbestols (pronounced "coo-bes-toll"). "Kubbe" means "log" in Norwegian. "Stol" translates into "chair" or "stool."
Carved from a large, hollowed out tree trunk, these "high seats" were found throughout Scandinavia in the 1500s to 1800s. The earliest carved chair dates back to the Middle Ages.
"They're all hollowed out, so they're not as heavy that way," Anderson explained. "We let it dry out for a year before we start carving. That's kind of the process."
A retired Lutheran pastor, he adds northern Minnesota motifs to the traditional Scandinavian furniture. His kubbestols feature loons, geese, cattails and showy lady's slippers.
"It's usually what people want," Anderson said, adding he crafted several custom orders this past summer.
"I've been doing a lot of carving," he said, including a 7-foot fireplace mantel for a customer.
Most of his sales are through word-of-mouth and at Art Leap.
A retired engineer, Jerry Bunting works with wood and steel. He lives between Menahga and Park Rapids.
This was his first year participating in Art Leap. He, too, was invited to Bender's abode.
Bunting is completely self-taught.
"I've never taken a class in anything specifically, but I have an engineering/design background so it's been interesting to, if you want to do something, find out how to do it and just go do it, especially if you can take time out of the equation," he said.
Retirement gives him the luxury of exploring any artform.
Bunting is experimenting with "fractal wood burning," a technique that involves using a high-voltage electrical current to burn patterns into wood.
"It's 9,000 volts to get the pattern to take place. I have a transformer," he explained. "You put a coating of water and baking soda on the wood, then it soaks in and electricity conducts through the water because wood is an insulator."
After placing a negative electrode on one end of the plank and positive on the other, "stand back and flip the switch," he said. "You can't steer it. It just goes wherever it goes. It's fun because it does whatever it wants to do."
He created a custom-designed table top using this method.
"It was his wood from his property," Bunting said, but that proved to be an issue because it wasn't kiln-dried, "so eventually it started to separate a little bit, but he's happy with it the way it is."
If Bunting doesn't have the tools he needs, well, he builds them.
When he saw a Pinterest photo of a small, oak chest, he was drawn to its dovetail edging and hand-forged hinges.
"I said, 'Well, I want to do that.' But I couldn't do that until I had a forge and an anvil to be able to make the hinges to be able to make the chest."
It took all winter to devise the equipment, then he built the chest.
"And it was fun," he adds, chuckling.
For another commissioned piece, he designed a table with 83 lures embedded in epoxy with a black walnut edging.
"Those are always fun when people love what you just did for them," he said.
Bunting met Bender through church. "I knew she was in the arts, and it's just amazing what she does."
A willingness to experiment
Bender recently ventured into mixed media. "I've done it before, but I haven't done it for a while," she said.
After placing dried flowers in one picture, Bender realized it needed birds. The lovely, layered creation was among her many works of art at this year's Art Leap.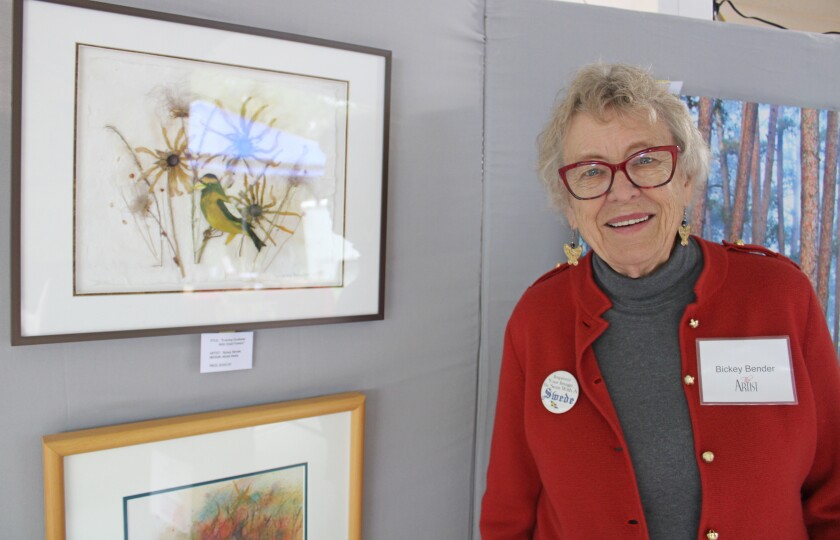 She paints in both watercolor and acrylic. People have asked which she prefers.
"What I say, it depends upon what the subject is or how I want to interpret it. Having been a teacher, you try different things, and so that's part of it, too. And sometimes you don't master anything," she joked.
One of her mixed media pieces, made years ago, uses her handmade paper, beads, plus bits of a rug that she pulled apart. "It was fun," she said.
Bender has experimented with cut, handmade paper as well. "I do that usually in the summertime."
Sometimes she draws inspiration from landscapes, like an old farm shed filled with implements or fungus growing on logs by her home.
Another sequence of paintings stems from a trip to Bosnia in 2008. She went with her friend and fellow artist, Nediha Kolakovic.
From car assembly to jeweler
Kolakovic is a Fargo-based jeweler.
"My first job coming to the United States was car assembly, electric motor cars – nothing what I wanted and nothing what I knew about," she said.
But that 13-and-half-year career, and her move up the corporate ladder, would give her the know-how to create and promote her own jewelry line.
Her parents moved from Yugoslavia (now Bosnia) when she was born.
She produces jewelry with bits and pieces – beads, stones, gems.
"But now, fashion moves. People like the simple things," Kolakovic says of the latest trends. "Very easy, simple. People just love little quotes. So I'm always searching for parts."
Customers also like metal for their earrings, necklaces, bracelets.
Kolakovic fashions her jewelry "at my little island where nobody can have lunch." She joked that she would take over the family room and her sewing room, if she could.
She has participated in Art Leap for at least 14 years. She's thankful for the artistic community in the Heartland Lakes area, giving her motivation.
Cathy Meyer opened up her Nevis studio for Art Leap. She demonstrated how to make handmade paper. It's a simple craft that kids would enjoy, plus they made a wonderful gifts, she said.
The Park Rapids chapter of Minnesota Darkhouse & Angling Association also supports a spring children's fishing seminar and other causes out of proceeds of its annual celebration of spearfishing decoys.