'Extreme fire danger': Spring burning restrictions begin as Park Rapids firefighters tackle grass fires
Fire season is upon us. Spring burning restrictions began this week in Minnesota. As of Thursday, the Minnesota Department of Natural Resources (DNR) rated Hubbard County -- and the northwest portion of Minnesota -- as an "extreme fire danger." W...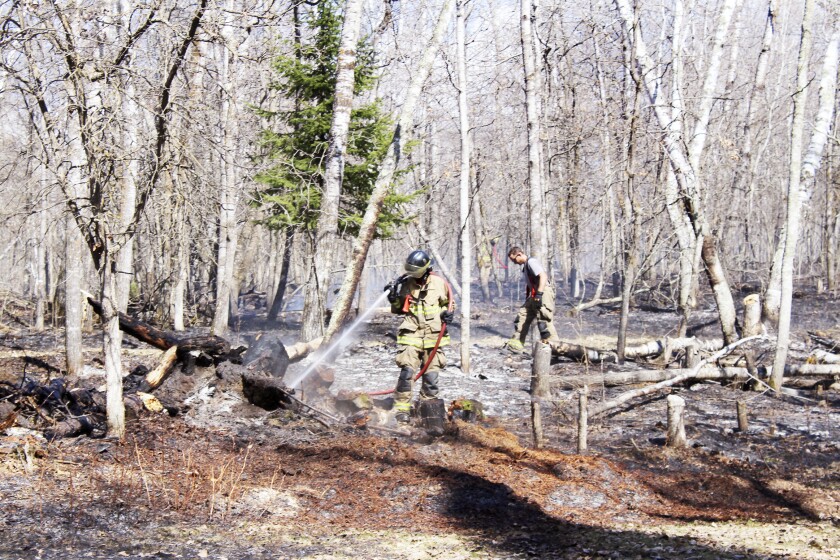 Fire season is upon us.
Spring burning restrictions began this week in Minnesota.
As of Thursday, the Minnesota Department of Natural Resources (DNR) rated Hubbard County - and the northwest portion of Minnesota - as an "extreme fire danger."
Warm temperatures and dry conditions mean increased wildfire risk, so the DNR is either prohibiting or restricting open burning across the state. A burning permit grants the individual holder the right to burn small amounts of dry leaves, plant clippings, brush and clean, untreated/unpainted wood as long as weather conditions do not pose a fire hazard.
Under "extreme" fire danger conditions, the DNR says "the fire situation is explosive and can result in extensive property damage. Fires start quickly, spread furiously and burn intensely. All fires are potentially serious. Development into high-intensity burning will usually be faster and occur from smaller fires than in the 'very high' danger class. Direct attack is rarely possible, and may be dangerous, except immediately after ignition. Fires burning in heavy slash or in conifer stands may be unmanageable while the extreme burning condition lasts."
No burning permits are currently being issued, but campfires are allowed in Hubbard County.
Escaped debris fires are the number one cause of wildfires in Minnesota, according to the DNR.
The Park Rapids Fire Department saw evidence of that this week as they responded to three grass fires.
"We had two back-to-back calls," First Fire Assistant Ben Cumber said of Wednesday's fires.
The county was under a "red flag warning" Thursday, as winds increased and humidity dropped, Cumber said.
Brush piles may rekindle
Passersby reported a grass fire on Green Pines Road, east of Potato Lake, on Wednesday afternoon.
Three DNR fire rigs and 18 Park Rapids firefighters responded, protecting a nearby home while attacking the perimeter of the fire as it spread into the woods.
"It appears to be a brush pile burned last winter, and the wind got in there and got it going again," Cumberr said. "That's really common actually. People will light their brush pile and it'll smolder for months. If you burn a pile in December, you're still at risk for a springtime fire."
A little over one to one-and-a-half acres burned, according to Cumber.
"It started to track almost straight east," he said.
A couple DNR trucks and about 15 Park Rapids firefighters responded to a grass fire near Boot Lake, in Savannah Township, on Wednesday.
Cumber advises residents to keep campfires in fire rings. "Monitor all your little fires and make sure they are completely out," he said. "We've had campfires not completely put out, they go to bed and the fire sneaks off into the woods on them."
As for brush piles, Cumber recommends monitoring them closely. "They are really dangerous. You need to be sure they burn up well," he explained. "They can last for months and months. You get six feet of ash. Well, an ember stays in there forever, and then all of a sudden the wind blows and rekindles it. Next thing you know the fire department is working again."
Brush piles account for a lot of the Park Rapids Fire Department's grass fire calls, Cumber said.
"If you have equipment, tear them apart. You can douse them. I've heard of people putting lawn sprinklers over them and letting them run," he said.
Impression Road fire
Park Rapids Fire Department and DNR personnel responded Thursday to a report of an unattended brush fire burning out of control on Impression Road, about a quarter-mile east of U.S. Hwy. 71 in Arago Township.
Cumber said the initial report said a 4-5 acre area was burning, but it turned out to be less than that. While efforts to contain the fire were still ongoing, he said its cause had not been investigated.
Six firefighting apparatus were on the scene, including the fire department's six-wheel side-by-side and the DNR's Bombardier J5. As to how many firefighters were there, Cumber said, "We're probably at about 12 to 14 right now."
He noted that a tanker had already been sent back to base, and firefighting personnel and equipment was being held in reserve "because this isn't going to be the only fire today."
Gusty winds and dry conditions appeared to be doing their part to keep the fire going.
"This stuff is going to be a little bit of a problem because it's kind of slash," Cumber said, "so the DNR might bring in a dozer to rip it up. But as far as any kind of spread, I think we've got it pretty much contained."
He added, "There's a plane up in the air there, looking for jumps - any kind of spot fire that can get up in the air and go."
Restrictions work
Casey McCoy, DNR fire prevention supervisor, said burning restrictions "really work - we've reduced wildfires by nearly a third since we started spring burning restrictions in 2001."
McCoy encourages residents to use alternatives to burning, such as composting, chipping or taking brush to a collection site.
People who burn debris will be held financially responsible if their fire escapes and burns other property.
Burning restrictions will be adjusted as conditions change. For information and daily updates on current fire risk and open burning restrictions, visit www.dnr.state.mn.us .
Park Rapids Fire Chief Terry Long noted that rain was predicted this weekend, "which would certainly help us out until it greens up."
1
/
2:
Approximately 12-14 Park Rapids firefighters and DNR foresters responded Thursday to a wildland fire on Impression Road. As containment efforts continued, Assistant Fire Chief Ben Cumber said the cause of the fire had not been determined, but it looked like an unattended brush fire. (Robin Fish/Enterprise)