A bounty of butterfly species: 71 identified in 2018 count
In July 1993, my wife, Marlene, and I started conducting Fourth of July butterfly counts in north-central Minnesota. We started small with two counts that first year. For 24 consecutive years, we've now done six counts per summer. Last month, we ...
In July 1993, my wife, Marlene, and I started conducting Fourth of July butterfly counts in north-central Minnesota. We started small with two counts that first year. For 24 consecutive years, we've now done six counts per summer.
Last month, we completed our 149th summer count. Cumulative total butterflies now exceeds 185,000 (185,282 to be exact).
We are grateful for the small band of counters who tromp around with us each year.
Reflecting on the 2018 count season, I feel these were the major themes: 1) species rich; individuals poor and 2) a season of surprises.
Species rich, individuals poor
The 71 species tallied for 2018 have been exceeded once by the 76 in 2003. Only 2005 and 2013 have equalled the 71 we had this year.
On the other hand, the number of individuals dropped six percent from 9,376 in 2017 to 8,823 this year. The top 15 species with the most individuals did represent 81 percent of the total. However, that was based on the "smaller pie" that 2018 represents.
Two of the 15 species had fewer that 100 individual each. I am perplexed that a number that low could make it in the Top 15. This includes Peck's Skippers found on all six counts, but only totaled 94.
Present on all six counts
Peck's Skipper was joined by six other species present on all six counts: Clouded Sulphur, Great Spangled Fritillary, Northern Crescent, Northern Pearly-eye, Eyed Brown and Monarch. However, there was a lopsided distribution. Both Clouded Sulphur and Northern Pearly-eye each had about three-quarters of the total present on a single count. Monarch was a bit different in that two counts each having one third of the total. The other four species had about half of the total on only one count.
Needles in haystack
Fourteen species, too numerous to list, had only one or two individuals showing up to be counted. Those 14 represented 20 percent of the total 71 species. However, the 17 individuals tallied for them accounted for just 0.2 percent - yes, two-tenths of one percent - of the total 8,823. They certainly keep us on our counting toes. They are a direct tie-in to the other theme: season of surprises.
Season of surprises
You might think that the 26th butterfly count season might have grown old hat, ho hum. Happily, nature had some surprises up her sleeve! I'll recount the more startling ones here:
• Western White: On the drizzling count in Polk County, I encountered a fresh female. She was in the same small meadow where we used to find the now-absent Poweshiek Skipperlings. During the 25 years this count conducted, only the second time this species found. The first time was just two years ago.
• Melissa Blue: As the Bluestem count was winding down at 5 p.m., I saw and photographed a very fresh male Melissa blue. It was the first time for that count.
• Itasca State Park: You would think that after 25 years of counts at Itasca it would be tough to find a "new" species. Would you believe not one, but four species for Itasca in 2018? They are Western Tailed-Blue, Bog Fritillary, Regal Fritillary and American Snout.
• American Snout: Did you do a double-take when I mentioned "American Snout" for Itasca? I hope you did. Especially if you spend most of your year in this neck of the woods. That's because Snouts are a southern U.S. species. Omaha is generally the northern edge of their range. Before we transplanted to Minnesota, Marlene and I did see some during our Omaha years now decades ago. They are uniquely shaped. Their very long palps give them a "snout" appearance. Even though passed, we instantly recognized the high-mileage one before us at the park. Not only was this the first Snout I'd ever seen and photographed in Itasca, but the first one I've had in Minnesota, period!
Recapping 2018
Here is a brief overview for each of the six summer counts.
• Nevis increased 46 butterflies due to favorable weather offsetting the reduced number of counters available.
• Deep Portage also enjoyed favorable weather and increased 680 butterflies for a total of 2,777. Only four of 149 counts have had more butterflies tallied; however, that positive tempered a bit when one realizes that these species: Clouded Sulphur, Common Wood-Nymph and European Skipper accounted for almost three-quarters of the total.
• Itasca State Park also enjoyed favorable weather. Though some teams had a shorter day, only 17 counts have produced more than the 2,351 individuals spotted. Happily, a two-year decline was reversed.
• Central Polk County had its 25th annual count in 2018. The poor showing of 431 butterflies reflected the impact of poor weather that day. Light rain caused one of the two teams to bail out early.
• Bemidji experienced a severe drop of almost 1,600 butterflies due to one less team and marginal cloudy, cool weather.
• Bluestem in Clay County enjoyed perfect weather of mild temperatures and very light wind. Favorable weather did not offset having one instead of two teams. There were 613 fewer butterflies recorded there in 2018 versus 2017.
Purpose of counts
A 15-mile diameter circle has been established for each count. During a single day, all living butterflies found in that circle are reported to the North American Butterfly Association.
Our counts are among 400 held in the U.S., Canada and Mexico. The citizen-gathered data provides valuable data on butterfly trends in North America. 2018 marks the 44th year these counts have been held.
Northern Crescent update
The Northern Crescent is the only species present on all 149 summer counts, but 2018 marks their third consecutive yearly decline on our counts. This year, only 474 were tallied whereas they used to be the most common butterfly on our counts. Northern Crescents slipped to sixth place in 2018.
Back to 2017
Several postscripts for the 2017 count season:
• Regal Fritillary: The 144 tallied at Bluestem were the most on a North American count last year. Though we were one team short in 2018, we still had 114. This species has been displaced from most of the eastern U.S. due to loss of prairie habitat. We are privileged to see any!
• Painted Lady: The 764 encountered on Bemidji count were the most on a single North American count in 2017. Last fall, so many Painted Ladies swarmed south over Colorado that weather radar detected them. They were the most common species I saw last fall. In fact, a Painted Lady was the last 2017 butterfly I saw on October 22 at Itasca's Biological Station. After we tallied 1,072 on our 2017 counts, only a total of two showed up on our 2018 counts.
Monarchs and more
I usually conclude these annual count overviews by mentioning Monarch activity both on and off the counts. Since there was happily so much Monarch activity witnessed in 2018, I'll review it in a forthcoming "Leps & Odes" column.
Hopefully, local readers have also enjoyed seeing more Monarch activity as well.
As I write these lines, very dry conditions have returned. That doesn't bode well for our fall butterflies here.
I encourage you to appreciate every one of these winged wonders that come into your life.
1
/
4:
This female Western White is only the second one ever observed during 25 years of central Polk County counts.
2
/
4:
A high-mileage Amerian Snout was far afield of its normal range. It was the first one ever sighted during an Itasca State Park count, plus the first one the Webers have ever seen in Minnesota. Note the wear and tear on its wing.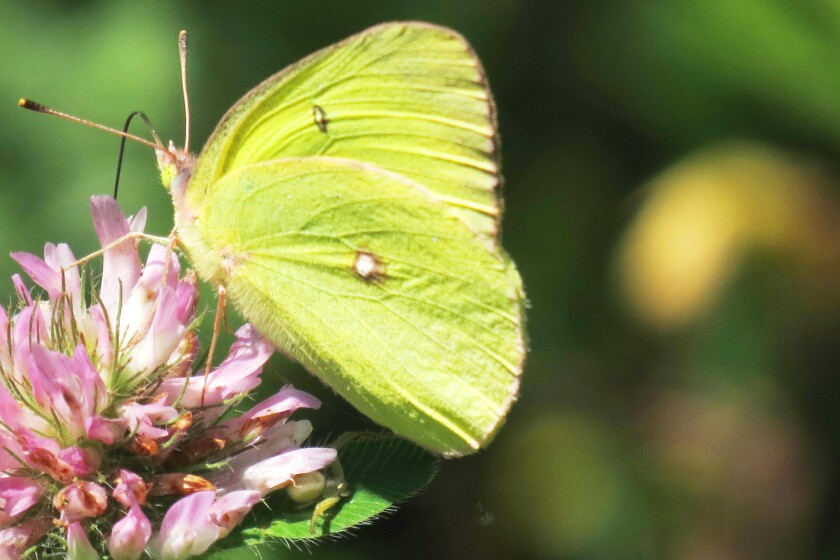 3
/
4:
This Pink-edged Sulphur nectaring on red clover in Itasca State Park was one of 54 seen during the 2018 butterfly count season. (Photos by John Weber/For the Enterprise)
4
/
4:
Peck's Skippers were found on all six counts this year. Here, a female is trying to entice a male.