Local rapper's career starting to take off
Brent Johnson, a.k.a. Trigga, hopes to put together a benefit concert to help struggling people get back on their feet.
Brent Johnson of Park Rapids has struck out on a musical path very different from most other local artists.
No church chorister, classical singer or rock-country-bluegrass crooner is he. Sporting the rapper name Trigga, Johnson is hip hop all the way.
A self-taught, improvisational guitarist from age 8, Johnson said he realized that "to make money doing hip hop, I can't do it here. So, I moved to South Carolina and started doing tours."
He connected with the Charleston, S.C. music scene, which, he noted, is only three hours away from both Atlanta, Ga. and Jacksonville, N.C. "It's really an awesome middle point," he said.
And there, said Johnson, "I got on with some big people. I opened up for some big people. I did songs with big people.
"I learned how to put on shows myself. I watched all the big people, because I was with them. I see how they worked. I see how things operated. After a while, I'm like, OK, I've got to do this myself. Go back to my hometown and start doing it. So, now I'm venturing out to the Cities and Fargo and Bemidji" – and, he hopes soon, Duluth.
Johnson would have been a member of the Park Rapids Area High School class of 2012, but he dropped out and joined the Army. After a six-year tour, he said, "I wanted to do this music thing. I feel like it was a gift that I was born with, and I just wanted to run with it. That's what I've been doing ever since."
One or two of Trigga's songs can be heard at www.cloudn9nerecords.com, though be advised, their lyrics and subject matter are best suited for mature audiences. The older of the two is titled "Gas" and it's about smoking a certain substance. The other song, recorded just recently, is titled "S— List."
Johnson said he wrote "Gas" for audiences out East, who go for simpler lyrics. "I had to dumb my lyrics down to adapt to that," he said. "It worked out great."
His breakout song, about four years ago, was titled "Six Feet Above Nine" and has lyrics that Johnson describes as an intricate, metaphorical story. "It's about being in the city," he said. "You feel stuck. You can't get out."
That's what really started the rise of his career, Johnson said. "When I brought it out, I sold thousands of CDs," he said. "That really put me out there. Quality of material. Awesome lyrics. Things that you really have to think about, kind of like art."
Other songs of his that have played well include "Hater," which Johnson says is "about people projecting their insecurities to make themselves look better. I'm sure you know how it is. It just doesn't bother me. I stay in my lane, and I keep grinding, and it just doesn't stop."
Despite what other people think, he said, "it doesn't matter because this is what I'm born to do. That's what that song is about."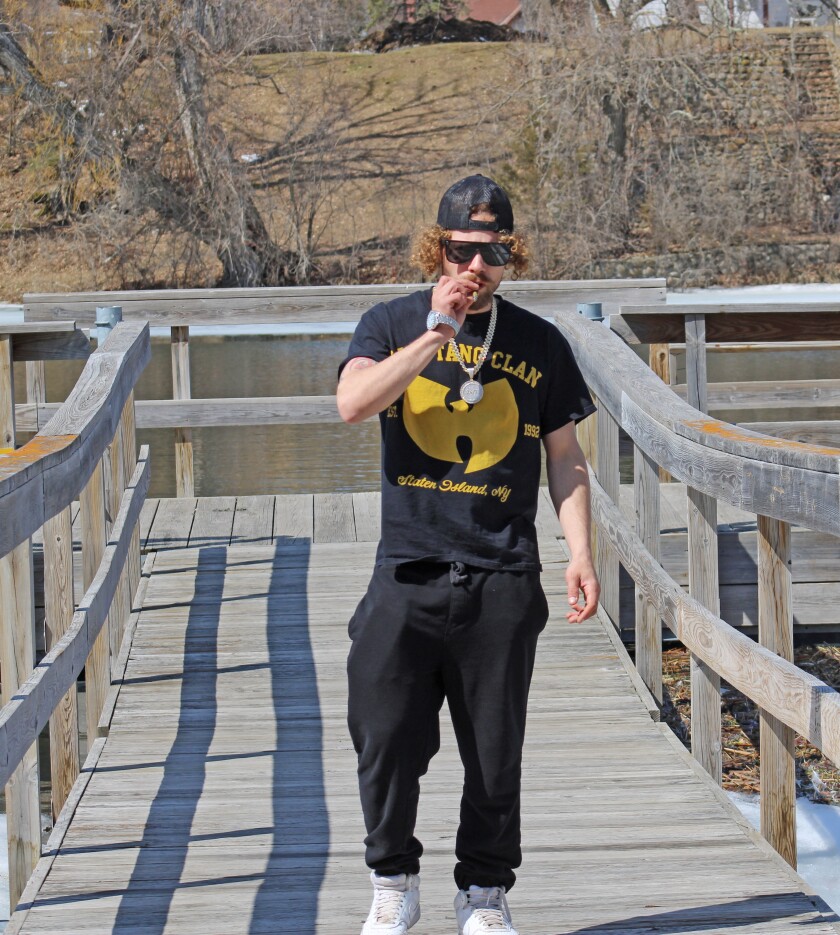 From a slow start, he said, "I pretty much just slungshot the past couple months, and I'm doing huge things," including a set of recordings with such major artists as Jadakiss, Gucci, Cam'ron, King Crooked, Constantine, Swifty McVay and Yukmouth.
"It's a big list," he said.
Meantime, he has music on multiple streaming platforms, including Spotify, iTunes, SoundCloud and Tidal, and he plans to perform a set at Thursday's Open Mic Night at the Armory Arts & Events Center in Park Rapids.
Johnson works full-time, digging during the summer for a local excavating company and logging in the winter. Add in the time he spends creating and promoting his music, as well as a line of clothing and merch and some advertising work, "I do a lot of stuff," he says. "It's like 25-hour days, basically."
He's trying to break into the music scene in Minneapolis, particularly a venue called First Avenue where many stars have performed. He's also looking to book shows in Fargo, Duluth and Bemidji, and hopes to headline a benefit concert to be announced, with donations to go toward MAHUBE-OTWA or "something that might help people that are struggling to get back on their feet.
"Because I've been there. I know how it feels and it's hard," he said. "I want to help that. I think it's important to give back to the community."