Red River Valley farmers look for solutions to three generations of cropland flooding
Flooding near Oslo, Minnesota, has destroyed agricultural land, washed out their township roads and caused thousands of dollars of damage to a railroad line that carries cars filled with wheat to the West Coast and southern United States.
We are part of The Trust Project.
OSLO, Minn. — Miles from Oslo, thousands of acres in farmland in seven Minnesota and North Dakota townships along the Red River still were under water in late May, weeks after the Red River spilled its banks.
Farmers who raise crops on the inundated fields were not surprised by the flooding, which frequently occurs during the spring and sometimes in the fall, too, but they were frustrated.
The flooding has destroyed agricultural land, washed out their township roads and caused thousands of dollars of damage to a railroad line that carries cars filled with wheat to the West Coast and southern United States.
For example, several years ago, the acreage of land that had been flooded was appraised at $1,500 per acre, while land with a similar soil type that had not been flooded was appraised at $3,800 per acre, said Gary Babinski, who farms in Pulaski Township, North Dakota.
"At today's prices, that would be $6,000 (per acre) land. The flood land still is appraised at $1,500," Babinski said.
Delayed planting also causes the farmers economic losses.
"In 2009, I had water on my land for 59 days," Babinski said.
This year, when commodity prices are high, prevented planting isn't an attractive option.
"The opportunities are there to have a good paying crop," said Derek Gowan, who farms land in Turtle River Township, North Dakota. He hopes that once he is able to plant, his fields will produce near-average yields.
But the farmers' exasperation stemmed not only from the financial losses that the flood has caused, but also from their belief that they have a well-researched, workable solution to mitigate it but can't because they don't have funding to implement it.
The farmers' $133.4 million flood reduction plan is the work of a group called Border Township Associative Group, which was formed nine years ago.
The seven farmers who make up BTAG group each represent a township — Turtle River in Grand Forks County, North Dakota; Walshville, in Walsh County, North Dakota; Big Woods, Forks, Higdem and Oak Park Townships in Minnesota; and the city of Oslo.
The group members' intent was to have civil conversations about a contentious water issue that 40 years earlier resulted in their parents and grandparents being engaged in a legal dispute over agricultural levees that were erected on both sides of the Red River.
The disagreement over the levees began in 1975 when Minnesota landowners built dikes to protect their land from a summer Red River flood. After the Minnesota landowners built the dikes, in turn, North Dakota farmers responded by constructing dikes on their side of the river, and a legal battle ensued.
A federal court order attempted to solve the dispute by ordering that by Oct. 31, 1986, the Minnesota and North Dakota dikes were to be lowered to the level of a 36-foot flood in Oslo, according to Grand Forks (North Dakota) Herald newspaper archives.
Flood stage of the Red River in Oslo is 28 feet, the National Weather Service said.
Since 1986, flooding of the Red River at Oslo has increased and frequently has reached heights of 38 feet.
This spring, the river crested at 37.57 feet.
Border Township Associative Group members believe that improved drainage has resulted in more water flowing from Fargo, North Dakota, downstream to Oslo.
"This year, we're seeing 60,000 to 70,000 cubic feet per second we're managing through the area. A big flood in Fargo would be 7,000 cubic feet per second, a tenth of what we're dealing with here," said James Bergman, a BTAG member who farms in Higdem Township, Minnesota, near Oslo.
Once the water reaches Oslo, a highway bridge built in 1958 and a railroad bridge constructed just after the turn of the 20th century bottles up the water, according to a 2018 study by Houston Engineering, based in Fargo, North Dakota.
The $360,000 study requested by Border Township Associative Group was funded by the Minnesota Legislature and North Dakota Water Board.
The study showed that the openings of the Oslo Highway Bridge, the Highway 317 Bridge — located 14 miles north of Oslo — and the Marais Bridge — located about two miles west of Oslo in North Dakota — allow significantly less water to pass through them than bridges north and south of Oslo.
Right now, the Oslo Highway Bridge and the Marais Bridge allow passage of 17,308 square feet of water, and the Highway 317 bridge allows passage of 16,318 square feet of water. The Border Township Associate Group members propose the Oslo Highway Bridge and the Marais Bridge be expanded to allow 47,000 and the Highway 317 bridge be expanded to allow 51,600 square feet.
The Kennedy Bridge over U.S. Highway 2 —19 miles south of Oslo — allows 30,070 cubic feet of water to flow through, and the Drayton Bridge — 26 miles downstream of Oslo — allows 57,623 feet of waterflow.
Besides the replacement of the three highway bridges, BTAG members say the railroad bridge, built just after the turn of the 20th century, also should be reconstructed.
"It's a large bill, overall, but yet, we're protecting the interstate, we're protecting the railroad," Bergman said. "Three percent of this nation's wheat goes through this railroad through Oslo, and that's 17% of North Dakota wheat.
"The burden we're carrying to fix this thing that happened in 1905 — we really need state and federal money to do it," Bergman said.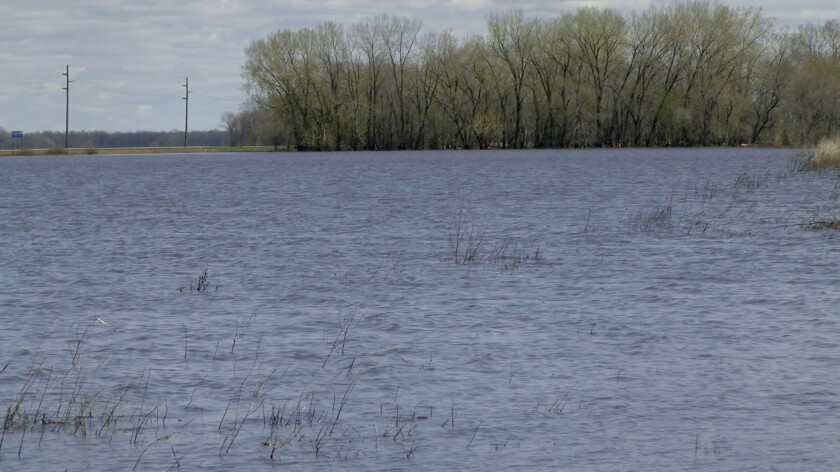 A key to funding is support from more than 20 state, county and township agencies, and a rail company. During the past nine years, members have met with dozens of prospective partners.
"We have met (with stakeholders from) local water boards to emergency managers, to departments of transportation in both states to county boards, to townships and cities," Bergman said.
"They're not saying no. They're saying, 'How are you going to pay for it?'" Bergman said.
Under the BTAG proposal, North Dakota's share of Phase 1 of the three-phase project is estimated at $55.5 million and Minnesota's at $30 million, for a combined total cost of $85.58 million.
The group a year ago formed a 501(c)4 non-profit organization called Oslo Region Joint Powers Board, which allows it to apply for federal funding.
The farmers had hoped that the Minnesota Legislature would vote to provide funding for $20 million of Phase 1 of the project before the 2022 session ended. Minnesota Sen. Mark Johnson, a Republican who represents northwest Minnesota in District 1, introduced S.F. No. 1154 this legislative session, which would have appropriated $20 million in fiscal year 2024 for Phase 1.
The bulk of that funding — $17.45 million — would be used to extend the Oslo Highway bridge when it is reconstructed. The 64-year-old Oslo Bridge is slated to be replaced in a few years, and BTAG believes that will be an opportune time to build a longer bridge than the existing one. The remaining $2.55 million would be used for reconstruction of the Highway 317 Bridge, which is located in Marshall County at the Minnesota-North Dakota border.
While the BTAG had high hopes that the bill would go through, the Minnesota Legislature did not take any action on the bill before it closed its session at midnight on May 23. Some legislative watchers believe there will be a special session to take action on bills that weren't taken up during the recent session. Bergman didn't want to speculate about whether that would occur, but he remained hopeful that the bill could be included if a special session is called.
"I still think we're in the play, like everyone else," Bergman said.
He and the other BTAG members believe the large price tag and collaboration between township, county and state, individuals and agencies is necessary because the flooding of cropland has been occurring for nearly half a century, and has caused damage and destruction for three generations of farmers.
Bergman notes that while the Oslo flood mitigation project has a hefty price tag, it pales in comparison to the $3 billion Fargo Diversion Project. Meanwhile, he and the other BTAG members say they are carrying a large financial and logistical burden that should be shared by other affected individuals and agencies.
If the Minnesota Legislature would approve the $20 million request — representing only 15% of the total mount of the estimated project cost — Bergman said it would be a good start that would encourage other groups on both sides of the Red River to give financial support.
"This is certainly a sparkplug to get it going," he said. "We're carrying a pretty burden and help from anybody. We're carrying a lot of load for the whole drainage system."
New job numbers from the Minnesota Department of Employment and Economic Development show seasonally-adjusted unemployment held at 1.8% in July, holding at an all-time low reached in June.
The afternoon celebration, by invitation-only, gathered about 100 guests.
Father-son duo Tom and Scott Perlick manage the farming and distilling sides of their business in northern Wisconsin.